I like to stock up on butter when it is on sale. I am picky on my butter. I have found that Walmart brand and other cheap brands of butter don't work as well in baking. I think they taste fine and we use it on things like toast, but I do not to bake with it. I am not sure why it doesn't work as well, but it doesn't.
In my tried and true recipes, like my cookies, I can tell a difference with cheap butter. I like the butter my Sam's Club sells and it is a good price. I also stock up on good butter when it is on sale and I freeze it.
Butter was on sale quite a bit around Easter. My Christmas sale supply was running low, so I decided to buy quite a bit of it.
I recently opened one of the packages of butter that I bought on sale. This is what I found.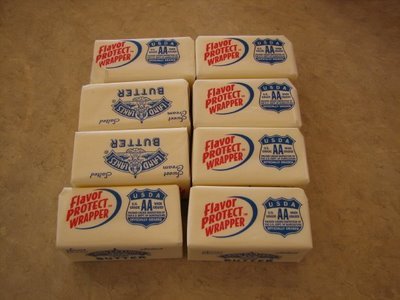 All these little cubes. Instead of 4 normal, 1/2 cup sticks of butter, I got 8 small, 1/4 cup sticks of butter. I think this is wasteful. It just gives you extra packaging for the same amount of product. Can't people cut the cubes up as needed. That is what most of us do.
To be fair when my mom saw my cute little sticks of butter, she liked the idea. She said it would work great for her since she just cooks for my dad and her. I can see her point, but I still like my regular normal sticks of butter.
Has anyone else seen these? What do you think? Should they stick to regular 1/2 cup sticks or do you like the idea of 1/4 cup small sticks?