Homemade enchilada sauce is one of my favorite make at home recipes. It is so easy to make, tastes great, and you control the ingredients!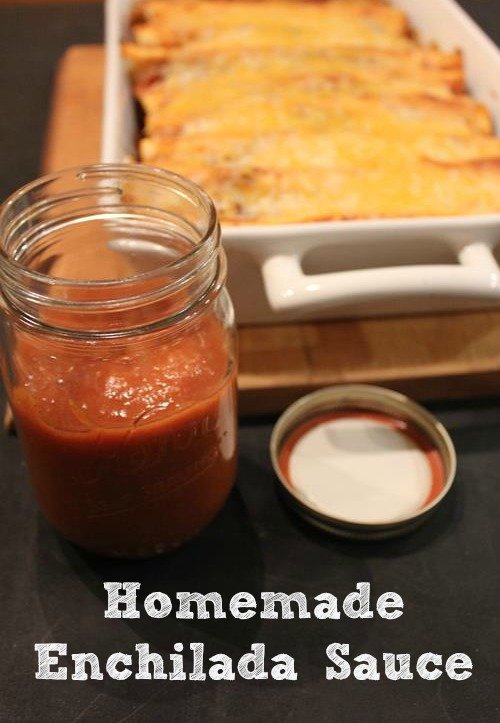 I used to buy my enchilada sauce. Yes, I knew I should be making it, but I had never found a recipe that I was really happy with. I had tried several and they just weren't very good. So, I stuck to the canned stuff that you can get at the grocery store.
I stated talking to a friend of mine though about enchilada sauce and she convinced me to give homemade a try. She lived in Mexico for a few years, so she knows some about Mexican cooking.
I asked her how she made her enchilada sauce. She told me the basics and then gave me an exact recipe.
I decided to give it a try. It was so good. It was the best enchilada sauce. It has great flavor. My family thinks it is way better than the canned sauce.
My husband thinks it could be spicier, but he likes his enchiladas spicy. You can always add more chili powder or chilies if you like it really spicy. My kids and I love it just the way it is below though.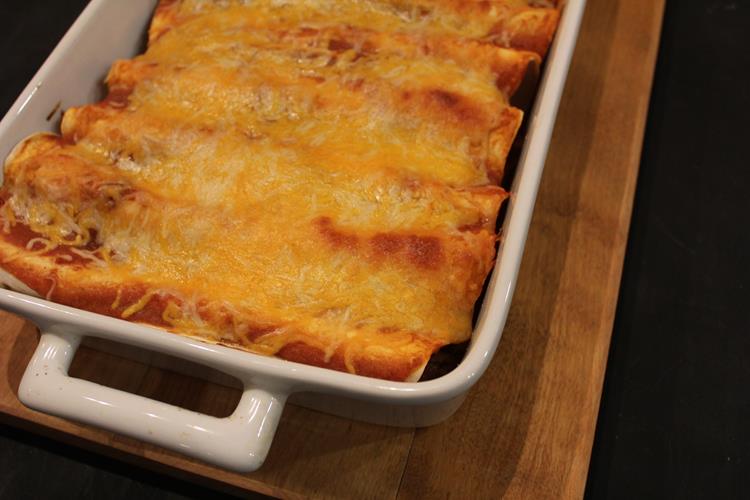 I did change two things from the original recipe. It called for green onions. I don't usually have those, so I use regular onions. I think they work great. I also pureed everything in the blender. I wanted a very smooth sauce. If you want it more chunky just mix the ingredients together and do not blend it.
Enchiladas and enchilada casseroles are a pretty frugal meal and homemade enchilada sauce is a great way to make enchiladas even less expensive.
If you like my homemade enchilada sauce you might also enjoy my other make at home recipes.

Homemade Enchilada Sauce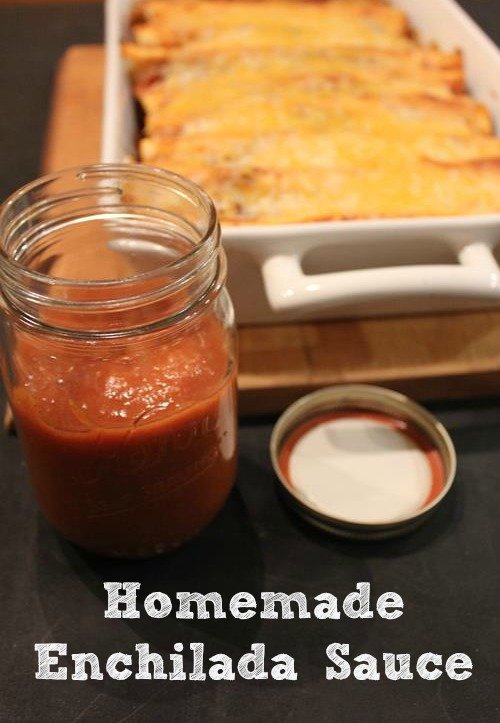 Enchilada sauce is easy to make at home with just a few basic ingredients.
Ingredients
2 – 8 ounce cans tomato sauce
1- 4 ounce can chopped green chilies, undrained
1/2 cup chopped onion
2 teaspoons chili powder
1 teaspoon ground cumin
1/4 teaspoon dried oregano
1 clove garlic, minced
Instructions
In a blender combine all sauce ingredients. Blend until sauce is smooth.
Place sauce in a saucepan and cook over medium heat for about 5 minutes.
Use as desired for enchiladas.
Nutrition Information:
Yield:
10 servings
Serving Size:
1
Amount Per Serving:
Calories:

24
Total Fat:

0g
Saturated Fat:

0g
Trans Fat:

0g
Unsaturated Fat:

0g
Cholesterol:

0mg
Sodium:

249mg
Carbohydrates:

5g
Fiber:

1g
Sugar:

3g
Protein:

1g