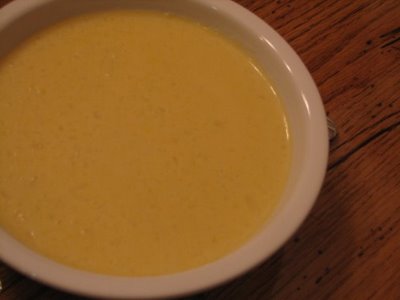 I recently bought some cauliflower. I got a good deal on it so I decided to buy it. However, I did not get it used. It was not looking so good but it was not quite bad enough to throw out. I did not want to throw it out anyway because that would be a waste. So, I wanted to find a way to use it.
I decided to use my broccoli soup recipe but use the cauliflower instead. I was not sure how it would turn out but I thought it was worth a try. It was. It was really good and a great way to use up cauliflower that is not at it's best. And this is a great alternative to those of you who do not like broccoli.

Cheesy Cauliflower Soup
5 cups cauliflower (if you have a little more or a little less that is fine)
6 cups chicken broth
1 1/2 cups milk or 1/2 & 1/2 (1/2 & 1/2 does taste better but I usually use milk)
1/2 cup plus 2 tablespoons flour
2 – 3 cups grated cheddar cheese
bacon, cooked and chopped (optional)
Steam cauliflower until tender, about six to eight minutes. Chop finely. I do mine in the food processor because we like it really chopped up and it is quicker. Set aside. In a large saucepan combine broth and milk. Slowly whisk in flour. Cook over med to med high heat stirring. Cook until it starts to thicken but not too thick. I usually do it until it just starts to boil. Add chopped cauliflower. Reduce heat to med low. Continue to cook about 5 minutes. Add cheese stir until cheese melts. Serve. If using bacon sprinkle each bowl with a little.