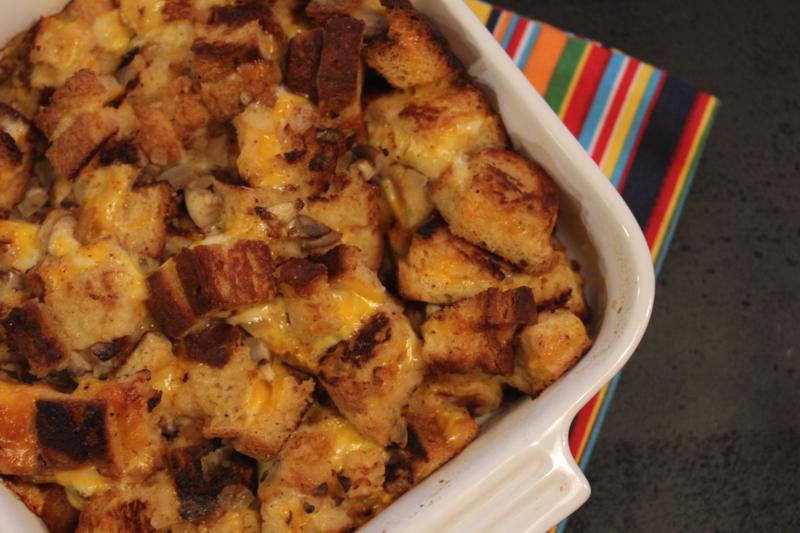 When it comes to sharing Thanksgiving recipes with you I have kind of neglected things this year. The last few weeks have been busy and developing and trying new recipes has been put aside for tried and true family favorites.
In the last couple of weeks we made a quick trip to Texas. My 15 year old daughter had a severe and rare allergic reaction that involved several doctors appointments and a lot of stress. Then both my girls had their wisdom teeth removed, which is a pretty standard procedure, but still not fun.
Add on to that it is hunting season in Oklahoma. Which I love and don't love at the same time. If you have hunters in your family you know what I mean. All three kids and my husband hunt. Some days, ok many days, especially the weekends, are scheduled around hunting.
And we have a birthday this week as well.
So my mind has not been on Thanksgiving. In fact, I can't believe it is next week. My mind is just having trouble getting into the Thanksgiving mood.
Thankfully we are having a pretty quiet Thanksgiving this year and as far as recipes I think I will stick with family favorites that I have been making for years.
That is except for this cheesy stuffing. This cheesy stuffing will definitely be on the menu this year!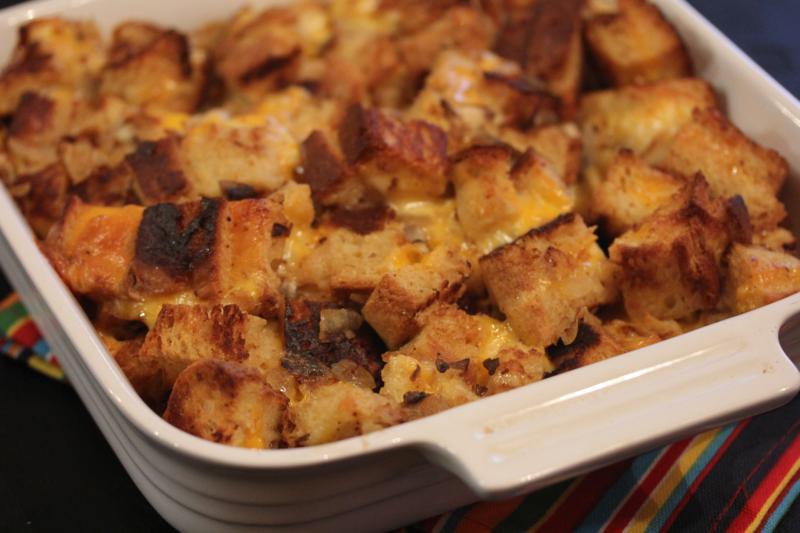 This recipe is inspired by a recipe I saw from Tillamook Cheese last week. I love cheese, especially Tillamook Cheese. I am an Oregon girl after all. Tillamook cheese is my favorite. So when I saw their recipe for grilled cheese stuffing, I knew I had to give something like it a try.
I needed a side dish for dinner one night and knew it was a perfect time to try making the cheesy stuffing.
The recipe was a pretty basic dressing/stuffing recipe. They changed it up though by using grilled cheese sandwiches for the bread part. Yes, grilled cheese sandwiches.
I know it sounds weird, but it is brilliant!
Making grilled cheese sandwiches gives you bread that is nice and toasted. It keeps the texture of the bread perfect in the stuffing. And the cheese layered in between the bread is so good. Yes, you could just stir grated cheese into a stuffing recipe, but this is different.
When you make a grilled cheese sandwich there is a lot of cheese. And it is layered between the bread. When you bake it the cheese melts and is perfect balance of bread and cheese.
Yes, making a grilled cheese sandwiches takes extra work just to cut it up and put it into stuffing, but it is worth it.
I followed the basic idea that they shared, but changed it up slightly. The main thing I did was to increase the amount of bread and cheese. I don't like soggy dressing. Looking at the recipe I was afraid that is what I would end up with, so I made sure to change the ratio of bread to liquid.
What I ended up with was delicious!
Neither my husband nor I am big dressing/stuffing eaters. We both can easily do without it at Thanksgiving. This stuffing though is one we both loved. My husband said this was so good that he would gladly eat this at times other than Thanksgiving.
The cheese really makes it a delicious side dish perfect for Thanksgiving or any day.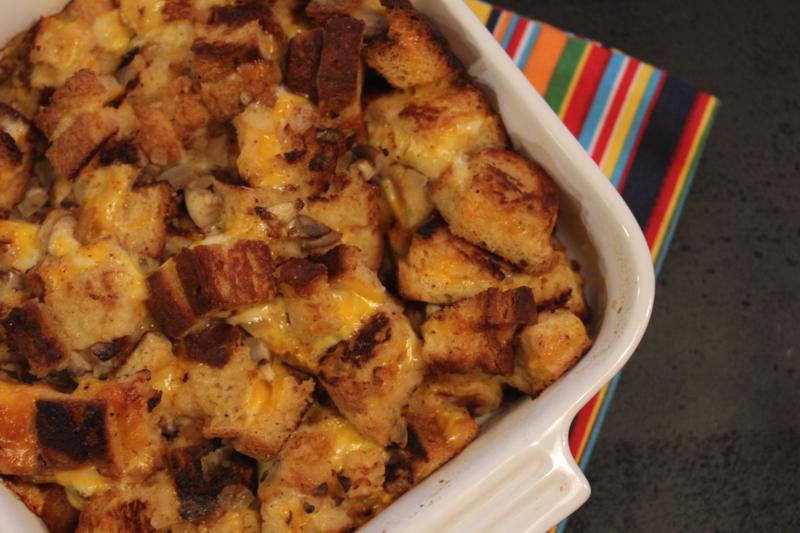 Yield: 8 servings
Cheesy Stuffing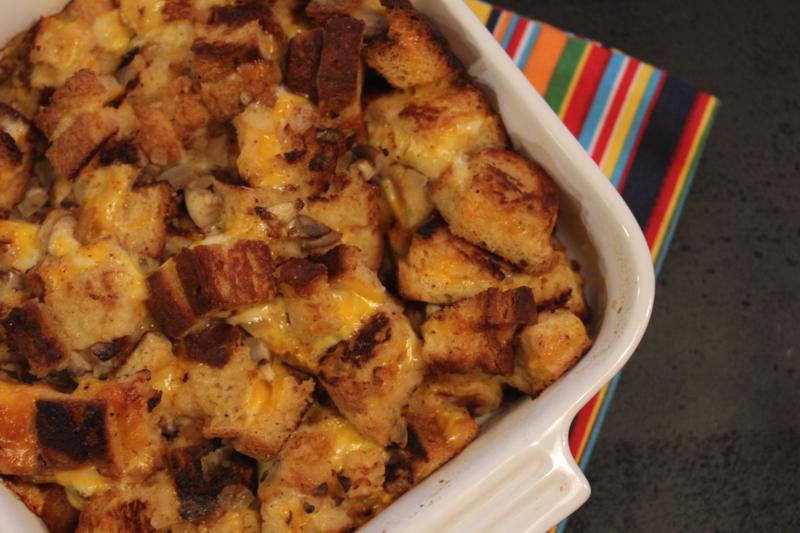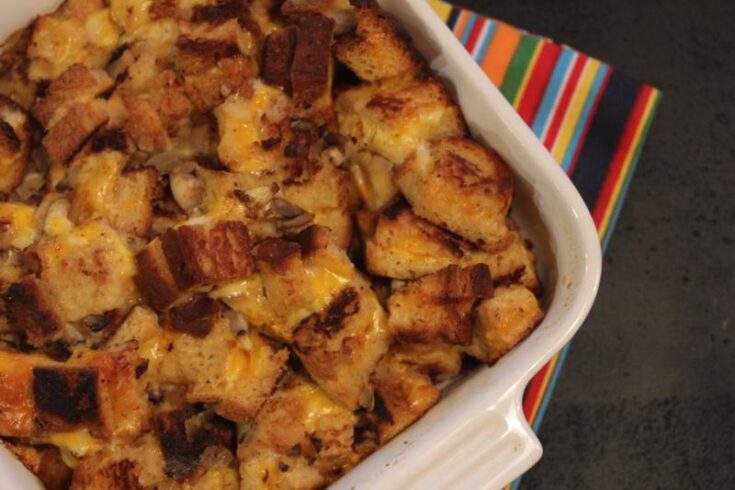 Cheesy Stuffing is a holiday treat made better with cheese.
Ingredients
6 grilled cheese sandwiches, cooked until nicely browned and cheese is melted ( use gluten free bread for gf version )
2 tablespoons oil
1 onion, diced
1 cup sliced mushrooms
1 egg
1 cup chicken broth
1/2 teaspoon seasoning salt
1/4 - 1/2 cup shredded cheddar cheese
Instructions
Preheat oven to 325.
Cut sandwiches into cubes about 3/4 inch thick. Set aside.
In a pan heat oil. Add onion and cook until onion is slightly tender.
Add mushrooms to the pan and cook until mushrooms are tender and onion is slightly browned.
In a large bowl mix together egg, chicken broth, and seasoning salt.
Add mushroom mixture to broth mixture. Mix well.
Carefully stir in sandwich cubes and stir just to combine well.
Spread into an 8x8 or 9x9 pan.
Bake for 40 minutes.
Sprinkle grated cheese on top and bake for 5 more minutes or until cheese is melted.

Notes
For gluten free version use gluten free bread for the grilled cheese sandwiches.
Nutrition Information:
Yield:
8
Serving Size:
1
Amount Per Serving:
Calories:

348
Total Fat:

23g
Saturated Fat:

11g
Trans Fat:

1g
Unsaturated Fat:

10g
Cholesterol:

77mg
Sodium:

919mg
Carbohydrates:

24g
Fiber:

2g
Sugar:

5g
Protein:

12g