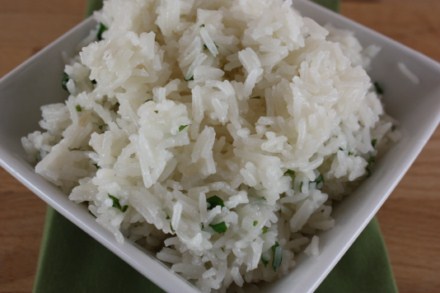 We love Chipotle restaurant. We actually had never eaten there until a few months ago, but once we ate there, we loved it.
However, if you know me, you know I like to make at home versions of food we love. So, I started searching for something like Chipotle that I could make at home.
I found quite a few recipes, but most of them did not even sound close to what Chipotle served. I did find one however, that sounded like it was very close to what I was looking for.
Of course, I could not leave the recipe alone, and I tweaked it a little. What I came up with was a rice we love. It is not quite the same as Chipotle's, but very close. I think this would work well with any type of Mexican meal.
Now my family can enjoy a Chipotle style meal at home with out spending the time or money to go out.
This recipe calls for basmati rice. I really think basmati does work best here. It gives it a texture and taste very close to the real thing. And in case you are wondering, yes, the water vs rice ratio is correct for this recipe. It is not the exact ratio that you would use for the regular way to cook rice, but it works in this recipe.
Yield: 6 servings
Cilantro Lime Rice
A make at home version of a restaurant favorite.
Ingredients
1 teaspoon oil
2 tablespoons fresh cilantro chopped
2/3 cup white basmati rice
1 cup water
1/2 teaspoon salt
1 lime, juiced (please use the real thing here it is so much better)
Instructions
In a saucepan, heat oil until hot
Add rice and stir for 1 minute, you are basically frying the rice in this step.
Add lime juice, stir for 1 minute more.
Add water and salt, bring to a boil
Cover and turn down to simmer until rice is tender and the water is absorbed about 18-20 minutes. Do not over cook this or it gets mushy.
Add in the cilantro, stir, and serve
Nutrition Information:
Yield:
6
Serving Size:
1
Amount Per Serving:
Calories:

31
Total Fat:

1g
Saturated Fat:

0g
Trans Fat:

0g
Unsaturated Fat:

1g
Cholesterol:

0mg
Sodium:

178mg
Carbohydrates:

5g
Fiber:

0g
Sugar:

0g
Protein:

1g
Nutritional values are approximate and aren't always accurate.