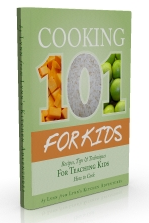 Many of you have asked that I offer my ebooks on Kindle and I have been working on getting that done. It is taking some time, but my goal is to have them all available as a Kindle version soon. Right now though I do have one available on Kindle.
My ebook Cooking 101 For Kids
is now available on Kindle. I am passionate about teaching kids to cook because it is a skill they will use for a lifetime.
Eating is part of life and teaching your kids about food and eating healthy will benefit them for years. I hope this Cooking 101 For Kids
ebook will help start your kids on a lifetime of cooking.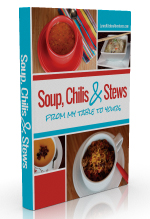 A few weeks ago we also did a complete redesign of my site and as part of a redesign we put together some of my ebooks for an ebookstore. Some of these are ebooks are my past ebooks, some have been redesigned, and I even have a new Soups, Chilis, and Stews ebook, which I will share more about soon. All are now available in my ebookstore and I will work to get them all on Kindle soon.
And if you are looking for homemade Christmas gift ideas my friend Toni has an ebook, Homemade Christmas Gifts
,which is full of homemade gift ideas and it is free right now on Amazon, so be sure to get it if you are looking to save money on gifts this holiday season.