When I was in Oregon, my sister and I took a cooking class. I had never done anything like this before. My sister had received a gift card for a class at Sur La Table. If you are not familiar with Sur La Table it is a gourmet type cooking store similar to Williams Sonoma. They also offer all kinds of cooking classes.
My sister loves to cook as much, if not more than I do. Since we do not get to see each other very often, we thought it would be fun to take a class together. So, I decided to splurge and take a class with her. I will admit this was a bit expensive. I would not do it all the time. But it turned out to be a lot of fun and I think worth it.
Neither of us had taken a class like this before so we did not know quite what to expect, but we both enjoyed it and learned a lot.
We learned how to make five different summertime pasta dishes, including making your own pasta. Learning to make pasta was fun and I might invest in a pasta maker at some point. It is time consuming to make so I am not sure it is something that I would do often. But, I am glad that I now know how to make it. It seems less intimidating now.
We made four other pasta dishes that night and got to eat some of each of them. They were all really good. Some of the recipes did contain items that I would consider a bit gourmet. So, I am not sure I would make them exactly the same at home. But I do plan on using the basic ideas and adapting them to my families taste and budget. We also learned a lot of tips and techniques that I can incorporate into my everyday cooking.
One of the things we did in class for a dish was grill tomatoes. My family loves grilled vegetables and we make them often in the summer, but I had never thought to grill tomatoes. I can't believe that I had not thought of it because they are so good and so simple to make.
I will be making and using these a lot this summer.
Here is what you do.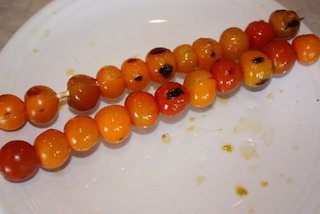 Take a skewer and stick cherry tomatoes on it. I like a mix of red and yellow tomatoes, but use whatever you have. If using a bamboo or wood skewer, soak it in water first. This will help keep it from burning or starting on fire. Drizzle oil on tomatoes and sprinkle with salt. Place on grill.
Cook for about 4 minutes total. Turn tomatoes several times while cooking. You cook these until they start to split and look like the picture above. You want to watch these closely or they will burn.
Remove from grill. Carefully take off skewer and enjoy! You can eat these in pasta dishes, salads, or just plain. They are so good.
Have you ever grilled tomatoes?