Yes, granola can be made in the crock pot. Crock pot granola is actually very easy to make!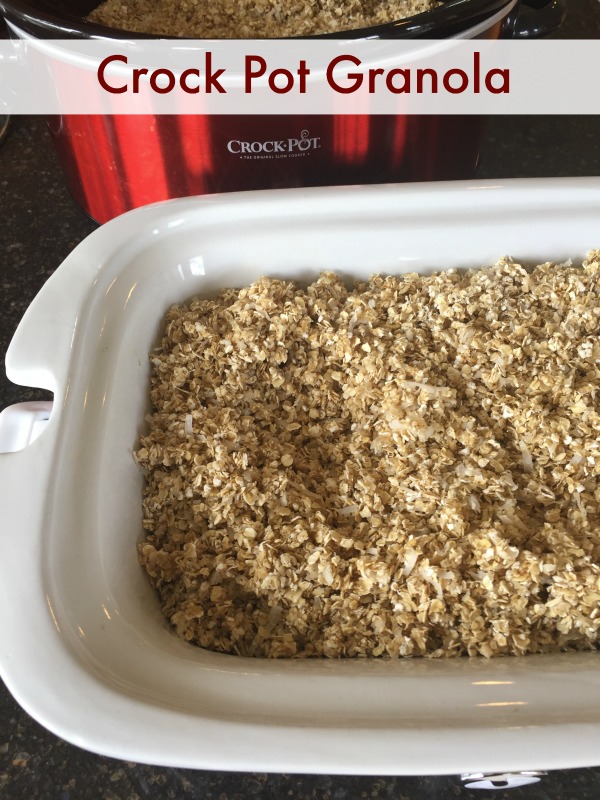 One of the most asked questions I get about my homemade granola recipes is if they can be made in the crock pot. I had never tried it so my answer was always I am not sure, but if you try it I would love to hear how it works.
Well, after getting numerous emails asking about it, I knew I had to try it to see for myself if it actually worked.
Guess what? It does. But…
Yes it works, but it is different in texture than the oven version.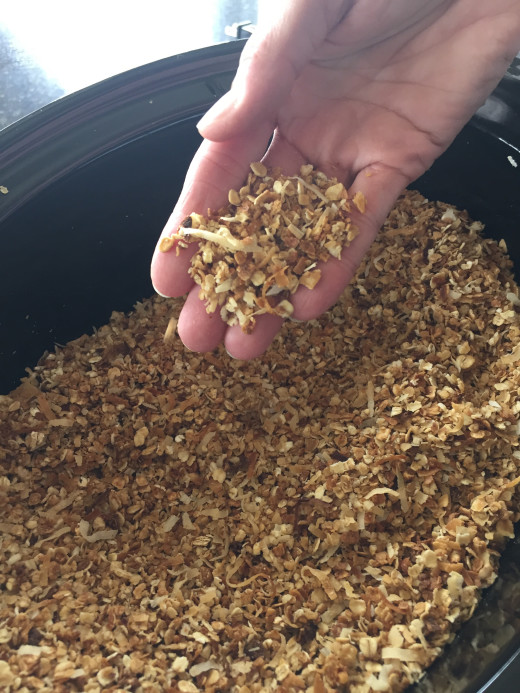 I think whether or not you like crock pot granola will depend on how you like your granola.
I like my granola crispy and clumpy. I like the big clumps of oats stuck together. I like the crunch. I know some of you don't like that kind though. You like a softer more individual oat like mixture. If that is you, than you will probably love crock pot granola.
My son, who currently has braces, said the crock pot granola was much easier for him to eat. He has trouble with the big chunks and something that is super crispy. So, a softer, smaller texture, granola is perfect for him.
I will also say that I am not sure what the point of making it in the crock pot is? Just being very honest here. Yes, it works, but why would I want to do it.
What I love about my oven granola recipes is that you can leave them alone for several hours. After the initial 10 minutes of baking, you don't have to think about it for several hours.
Crock pot granola on the other hand needs watched. You have to stir it every 20-30 minutes or the edges will get too crisp and the center won't crisp up at all. So, it is not a stick in the crock pot and forget about it time of recipe.
I love my crock pot for the reason that I can start it and pretty much forget about it until it is done. If I have to babysit a crock pot recipe it kind of defeats the purpose to me. But maybe that is just me. You might feel different about that.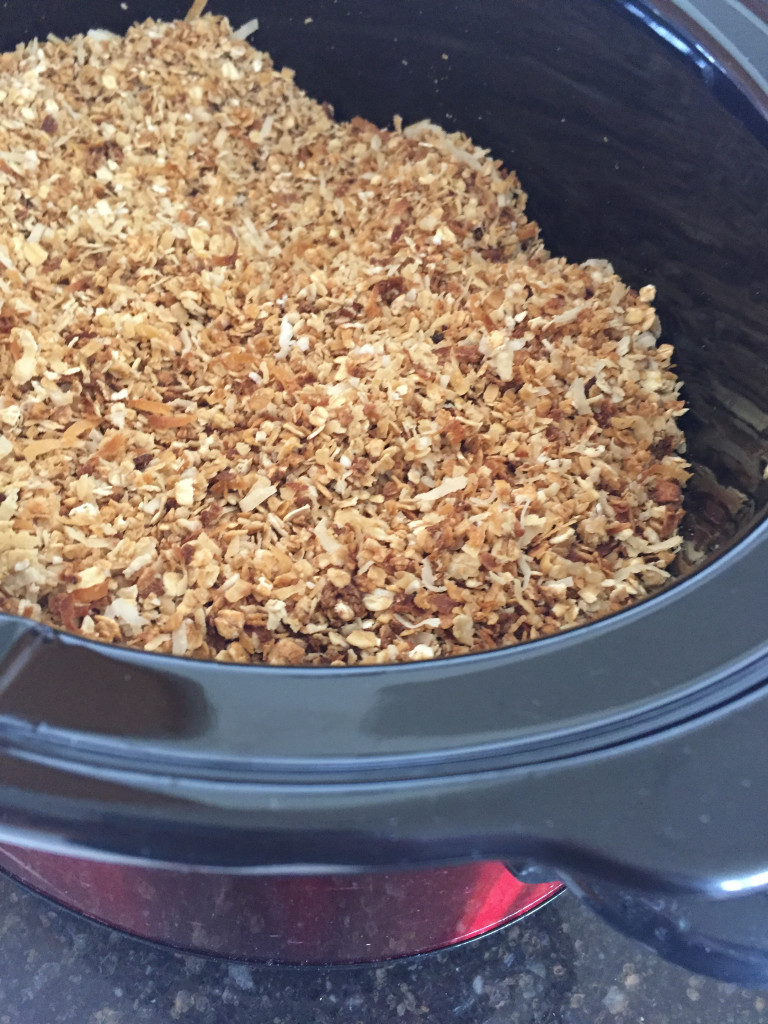 I tried this in both my casserole crock pot and my large 6 quart crock pot and both worked fine. And if anyone is wondering I am still loving my casserole crock pot.
There are two important things to do when you cook granola in the crock pot. Leave the lid slightly cracked to allow some of the moisture to escape. If you put the lid on completely the granola will get soggy.
You also need to stir this every 20-30 minutes. If you don't the granola will be very crisp around the edges and very soft in the center. Stirring is important.
I am giving you the basic recipe that I used, but I think any of my homemade granola recipes would work the same.
If you have made crock pot granola I would love to hear your thoughts. Do you like it? Or do you prefer the oven version?
Yield: 10 servings
Crock Pot Granola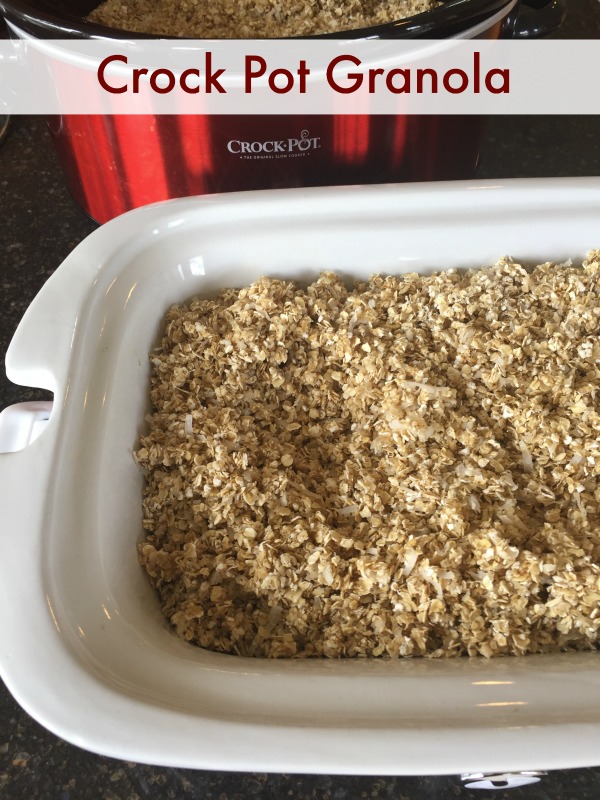 Crock Pot Granola gives granola a unique texture that is delicious.
Total Time
2 hours
8 minutes
Ingredients
⅓ cup brown sugar
⅓ cup oil or coconut oil, I like coconut oil for this
½ cup honey
2 teaspoons vanilla
½ teaspoon coconut extract, optional but really good for extra coconut flavor
3 cups old fashioned oats, I use gluten free oats
4 cups quick cooking oats, I use gluten free quick oats
2 cups coconut
1 cup chocolate chips, optional
Instructions
In a small sauce pan combine brown sugar, oil, and honey.
Bring to a boil stirring constantly. Once it comes to a boil remove from the heat and add vanilla and coconut extract.
In a large bowl combine oats, coconut, and sugar/oil mixture. Stir until everything is combined and oats are well coated.
Place in crock pot.
Cook on high for 2 - 2 1/2 hours, stirring every 20-30 minutes.
Let granola cool completely.
Stir in chocolate chips if using.
Remove from crock pot and store in an airtight container.
Notes
For gluten free version be sure to use gluten free oats and read labels to make sure that the ingredients are gluten free.
Nutrition Information:
Yield:
10
Serving Size:
1
Amount Per Serving:
Calories:

610
Total Fat:

27g
Saturated Fat:

13g
Trans Fat:

0g
Unsaturated Fat:

12g
Cholesterol:

0mg
Sodium:

90mg
Carbohydrates:

88g
Fiber:

10g
Sugar:

39g
Protein:

10g
Nutritional values are approximate and aren't always accurate.