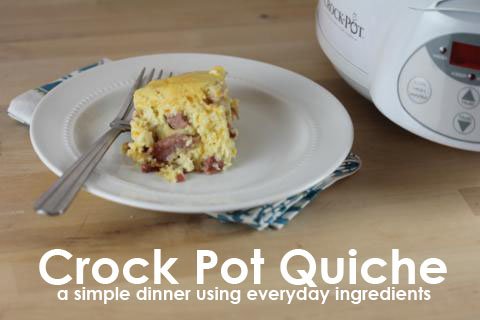 One of the quickest and easiest meals you can make is quiche. It is simple, contains everyday ingredients, and is easy to change up with what you have on hand.
Today for Crock Pot Monday I am sharing a simple slow cooked quiche. You can keep this very basic with just sausage or ham and cheese, or you can add in mushrooms, onions, peppers, and other ingredients.
This is not a cook all day type of recipe though. This is a cook for a few hours type of meal. Eggs in the crock pot for eight hours would not be a good thing. Cooked for just a couple of hours though they are delicious!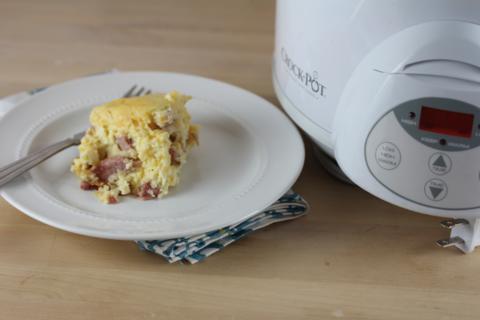 I have often heard that quiche is more of a girls type meal and that guys don't really enjoy it. In my house that is not true at all. Yes, the girls love quiche, but so do the guys. My husband doesn't mind eating it for a simple dinner as long as the quiche contains meat. So, I would love to hear what your family will eat.
Do you serve quiche to the guys in your house? 
Crock Pot Sausage Quiche
1 pound bulk mild pork sausage or 2-3 cups cooked ham
12 eggs
2 cups (16 ounces) cottage cheese
3 cups shredded Monterey Jack cheese
1 cup shredded mozzarella cheese or cheddar cheese
1/2 cup all-purpose flour ( I now use either a gf flour blend or 1/4 cup cornstarch instead)
1/2 cup butter, melted
1 teaspoon baking powder
Optional Ingredients
2 cups sliced fresh mushrooms
3/4 cup finely chopped onion
1 can (4 ounces) chopped green chilies, drained
In a large skillet over medium heat, cook sausage until no longer pink then drain.
In a large bowl, beat eggs, cheeses, flour, butter and baking powder. Stir in sausage and any optional ingredients that you want.
Transfer to a greased slow cooker and cook on low for 3-4 hours. Turn off crock pot, leave lid on, and let set for 10 minutes before serving. ( The time on this may vary with different crock pots.)