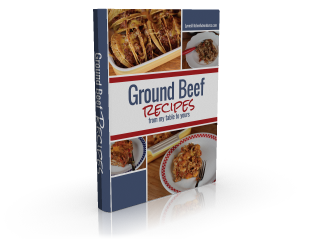 With today's super high prices, ground beef is the way to go if you're on a tight budget like most of us. Ground beef is the most versatile and inexpensive when it comes to making a meal for your family or for yourself. It is a favorite in my family and I know it is in many of yours.
Last year I wrote an ebook full of my family's favorite ground beef recipes. These are tried and true favorites that you will find on the menu plan often.
Because I know you all love ground beef recipes, I wanted to let you know that today through Sunday, April 28th, my ebook Ground Beef Recipes from My Table To Yours
is FREE on Amazon. Yes, FREE, you can't get a better deal than free.
Ground Beef Recipes from My Table To Yours
will help you serve inexpensive meals that your family will love. So be sure to get your copy while it is free.
Note for my gluten free readers: This book is not specifically gluten free, but all the recipes can easily be made by reading labels, and using gluten free pasta, gluten free oats, and gluten free cornmeal. This is gluten free food that no one will know is gluten free.
If you don't have a Kindle don't worry Amazon has reading apps
for you to read Kindle books on other devices.