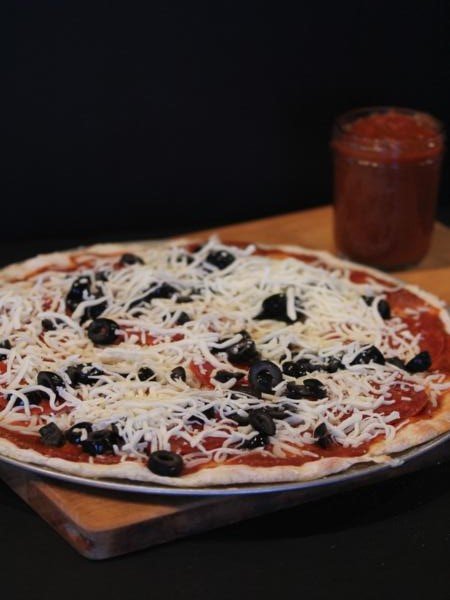 I don't have a new Cooking Through My Collection recipe for you today, but I do have a great recipe for you. I was going to share this last week, but I really wanted to share my three ingredient slow cooker recipe. So, pizza day got moved to Monday for this week. Next week I will be back to Cooking Through My Collection.
The last few weeks I have shared a few favorite homemade pizza ideas. We talked about homemade pizza crusts and also one of my favorite budget friendly homemade pizzas.
Before I shared anything else in this series, I knew I needed to share my favorite homemade pizza sauce. Or maybe I should say my current favorite homemade pizza sauce.
Years ago, like my first year or so of blogging, I shared a recipe for homemade pizza sauce. It is a great recipe that I made for many years. It is still a great recipe, but recently I wanted a change. I wanted something that fit our tastes a little better now.
You see once in awhile I get lazy, or maybe not so much lazy but in a hurry, and I buy those prepackaged sauces from the store. Now I will admit these are not cost effective, but it is easy and I find myself grabbing it more times than I should.
Lately I have realized that although my family loves the flavor of the store sauces, and I love the convenience of them, I needed to go back to making my own sauce more regularly. Homemade is cheaper, healthier, and better tasting, so really why buy it when I can make it.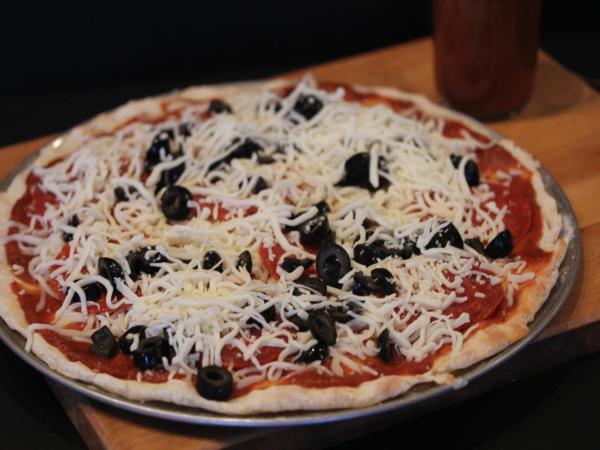 Since we had been enjoying the flavor of the premade sauces, I decided that I wanted to come up with a sauce more like the jars or packages you buy from the store.
The main thing that I think we like about the store sauces is the flavor. They usually have tons of flavor, which I knew I could easily get at home.
When it comes to tomato based sauces the longer the cooking time almost always means that better the flavor. Low and slow is often the key to a good sauce. I knew I needed a sauce that was not a quick ten minute sauce. So, I was determined to cook it low and for longer than normal. The problem with this is that it makes homemade pizza a little more time consuming to make. It is delicious, but not so much quick and easy.
You can easily solve this by making the sauce several days ahead or even better make a really large batch and freeze it. Which is what I have been doing. I can make a large batch, freeze in small containers, defrost it on pizza day, stir well, and use for pizza night. It makes homemade pizza night easy, frugal, and delicious.
The other thing that I think makes the prepackaged sauces taste great is a little sweetness. Now, most of the sauces are actually overly sweet and I was not looking for anything overly sweet. I wanted slightly sweet and something to offset the acid in the tomatoes. A little sugar does just that. I did not add much, but just enough to add that sweetness it needed.
Now pizza night can be easy, delicious, and frugal.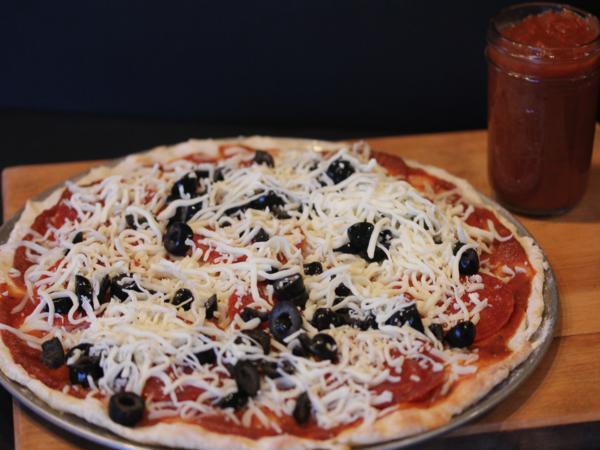 Homemade Pizza Sauce
2- 8 ounce cans tomato sauce
1/4 teaspoon oregano
1/4 teaspoon dried basil
1/4 teaspoon garlic powder
1/2 teaspoon salt
1/8 teaspoon ground black pepper
1/8 teaspoon onion powder
1 tablespoon sugar
In a saucepan combine all ingredients. Cover and cook over low heat for 45-50 minutes, stirring occasionally.
Store in refrigerator until ready to use or freeze.
Makes enough for two pizzas.