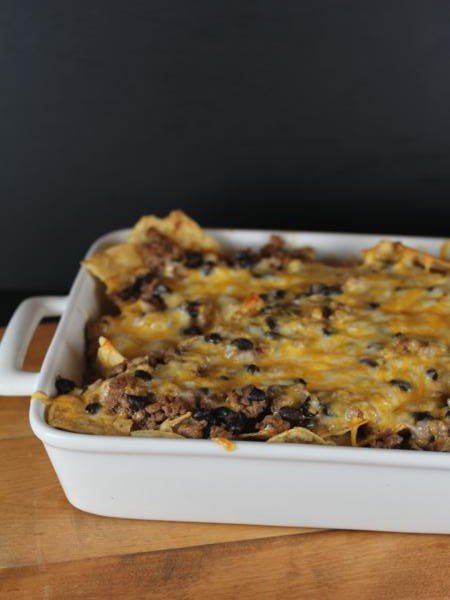 Enchiladas and nachos are both foods that everyone seems to love. Cheesy goodness mixed in with meat, heat, and other deliciousness. How can all that be bad?!
One difference between enchiladas and nachos is that enchiladas are a little harder to make. No, they are not hard to make, but they do take a little longer to make than most nachos do.
Nachos really are the the ultimate quick and easy meal. When I can't think of anything else to serve me family, I can always put together nachos.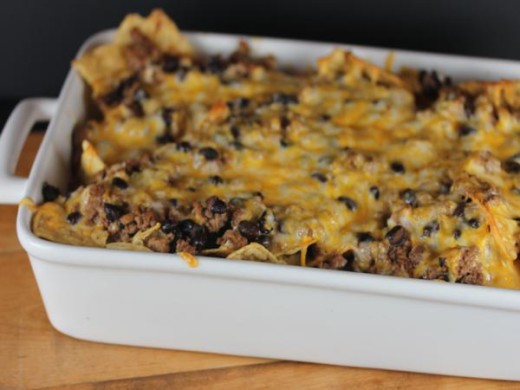 Today's recipe is for a little different take on nachos. I took the flavors of one of our favorite Mexican type dishes, which is enchiladas, and combined it with the easy conveniences of nachos.
The results are a quick and easy dinner that is delicious! Really these are so good. Your whole family will love them.
One note on these though. Often times when I make nachos I cook them under the broiler. I don't like soggy nachos. I am guessing you agree that soggy chips are not a good thing. And cooking nachos under the broiler is usually the best way too keep them crisp. For these though I do not use the broiler, you can, but I usually use the oven at a high heat to cook these. The high heat keeps the chips from getting too soggy and still allows for all the ingredients to heat all the way through.
And now I want a plate of nachos. I think these will be on the menu plan again soon!
Beef Enchilada Nachos
1 pound ground beef
1 -10 ounce can enchilada sauce or use homemade enchilada sauce
1 can black beans, rinsed and drained
2 cups shredded colby jack cheese
6-8 cups tortilla chips
Preheat oven to 425 degrees.
Cook ground beef until thoroughly cooked. Drain off any fat.
Add enchilada sauce and black beans. Cook until heated through.
Spread chips onto a large baking dish or cookie sheet.
Top with half of the cheese.
Spread meat mixture on top of cheese.
Top with remaining cheese.
Bake for 8-10 minutes or until cheese is melted and it is heated completely through.