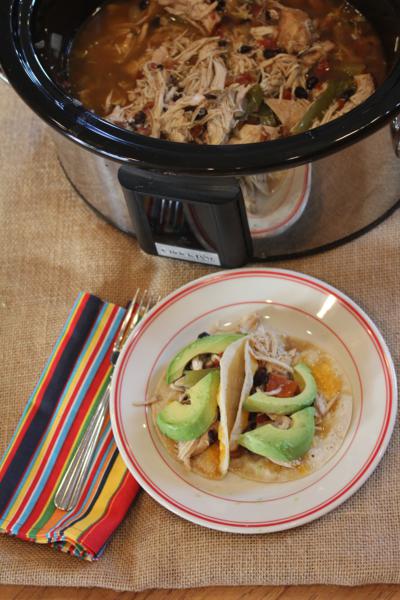 I have been in the chicken mood lately. I found it on sale and have been creating all kinds of new recipes with it. My family might just get tired of chicken by the end of the week, but I am enjoying it and am coming up with all kinds of new recipes to share.
Today's recipe is a simple crock pot recipe that I came up with last week. I had a really busy day and was not sure what time we would be able to eat dinner. I had some corn tortillas in the fridge and some avocados that needed used up, so mexican type food seemed like the perfect meal to make.
I put everything in the crock pot and let it cook all afternoon. It was perfect by dinner time and made getting dinner on the table easy. And the leftovers worked great for lunch the next day.
I knew that I would not have a lot of time at dinner time, so I put the onions and peppers in the crock pot with the meat and other ingredients. If you like your onions and peppers more crisp and have a little more time, just leave them out of the slow cooker and cook them on the stove top right before serving.
Easy Slow Cooker Chicken Fajitas
2 pounds (or so) boneless skinless chicken breasts

1- 16 ounce can black beans, rinsed and drained

1 can diced tomatoes with green chilies ( I used Rotel)

1 green pepper, sliced

1 red pepper, sliced

1 onion, sliced

2 teaspoons ground cumin

2 teaspoons ground chili powder

1/4 teaspoon salt or to taste

tortillas

lettuce, avocados, cheese, sour cream, etc., for serving 
Place chicken, beans, tomatoes, peppers, onion, cumin, chili powder, and salt in a slow cooker. 

Cook on low for 4-5 hours or until chicken is tender. 

Using two forks shred chicken. 

Serve on tortillas. 
Note: If you like your peppers and onions more on the crisp side, do not put them in the slow cooker and cook them on the stove top right before serving.