A simple and delicious taco soup without the beans. This soup contains basic pantry ingredients and is just as good as the regular version of taco soup.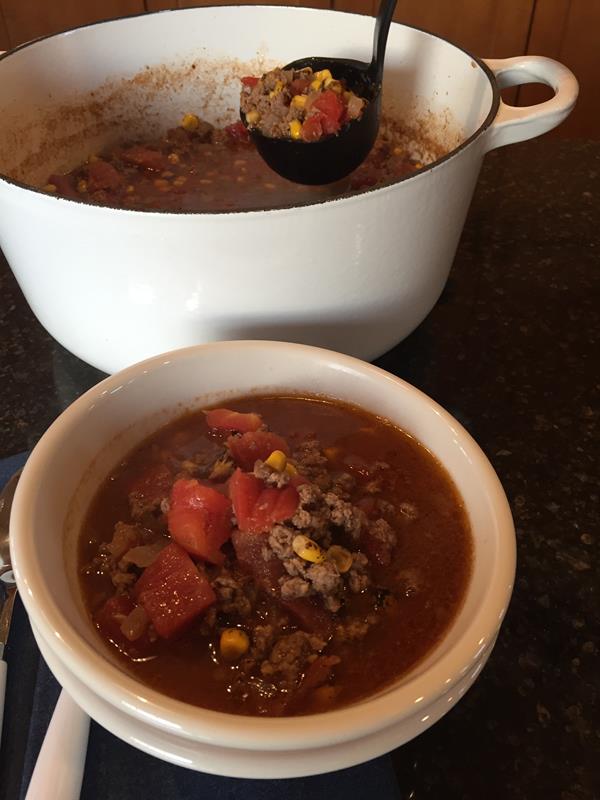 Sickness hit our house a few weeks ago. Thankfully it was not the flu, but it was a nasty cold that would not go away.
Almost two weeks later and some in our house are still not 100% better. I ended up with a sinus infection and finally gave in and got some antibiotics Saturday. Up until now we have had a pretty healthy winter, so I cannot really complain. So many people have had it much worse. I think we are all ready for spring!
When we have a house full of sick people, soup is a must. But when I am one of the ones sick it has to be one I can put together quickly with ingredients I have on hand.
One day when I was sick I just dumped a bunch of ingredients in the slow cooked and hoped it turned out good. It did. Although I was too sick to take time to get pictures of that meal.
Another day I made the simple stove top taco soup that I am sharing today. This is a meaty, hearty, no bean soup. You could easily add beans to it, but I liked it without beans because it was a little different than your normal taco soup.
This was basically a dump a bunch of stuff in a pan and 30 minutes later we had dinner, type of meal. You could easily do this in a slow cooker though if you wanted it to cook ahead of time.
I used roasted frozen corn when I made this because that is what we had and it gave it a nice flavor, but regular frozen corn would work just as well.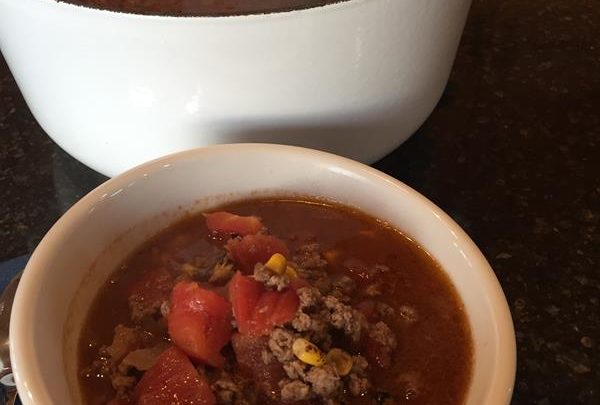 Taco Soup without Beans
Ingredients
2

pounds

ground beef

1

onion, diced

1

package

taco seasoning

If gluten free be sure to uses gf seasoning or homemade

2

14.5 ounce can

diced tomatoes

2

cups

frozen corn

1

14.5 ounce can

beef broth

1/2

teaspoon

chili powder

1/2

teaspoon

ground cumin

1/2

teaspoon

salt

1/2

cup

shredded cheese
Instructions
In a large pan cook ground beef and onion until beef is browned and onion is tender. Drain off any fat.

Stir in taco seasoning, diced tomatoes, corn, beef broth, chili powder, cumin, and salt.

Cook over medium heat for about 10 minutes, stirring occasionally.

Serve with shredded cheese and any other desired toppings.