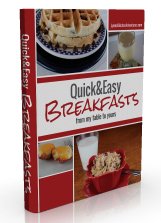 So Why Eat Breakfast???
We've all heard the most important meal of the day is breakfast. Here are a few FACTS about breakfast to consider:
A healthy breakfast provides children with the energy and nutrients they need to be able to concentrate in the classroom.
Studies show eating breakfast is important in maintaining a healthy body weight.
Without breakfast, hunger sets in long before lunchtime which can lead to unhealthy snacking along with low energy.
Skipping breakfast can mean missing out on the daily requirement of some essential minerals and vitamins.

Let's also consider a 5th FACT…

Breakfast does not have to be enjoyed only in the morning. You can eat breakfast anytime!
Breakfast is not only a great way to start the day, it can also be a quick and easy dinner! Save time and money with my ebook Quick & Easy Breakfasts full of simple meals your family is sure to enjoy.
Get yours today for only $1.99 Cents and enjoy benefits that go way beyond saving time and money!
BUY NOW!

The Kindle version of Quick and Easy Breakfasts from My Table To Yours is available through Amazon.

For the PDF version click on the add to cart button.