Sheet pan meals are a quick and easy way to get dinner on the table.
They have been very popular over the last few years and I know why. They are a great one dish dinner.
I will admit though that I have a love hate relationship with many sheet pan meals. I don't think they are a bad idea. Most of the recipes that I have seen are delicious looking. My problem is with how most people cook them.
Many of the recipes have you cooking the meat and the vegetables for the same amount of time. In some cases that works great. Other times it is not so great.
The amount of time it takes to cook a chicken leg is different than the amount of time it takes to cook green beans. And pork chops and potatoes may take about the same amount of time, but they need to cook way longer than most vegetables.
Not all sheet pan recipes do this. Some have you mixing in the vegetables part way through, but many do not. Many recipes are meat, vegetables, and seasonings dumped on a sheet pan and cooked.
So for most sheet pan recipes I just adjust the cooking time. I put the meat and potatoes in first and then add the rest of the vegetables part way through the cooking time. It avoids over cooking the vegetables and makes them perfect every time. It will help you love your sheet pan dinners even more!
Because I love how easy sheet pan dinners are and I want you to love them too, today I am sharing a few of my favorite recipes with you.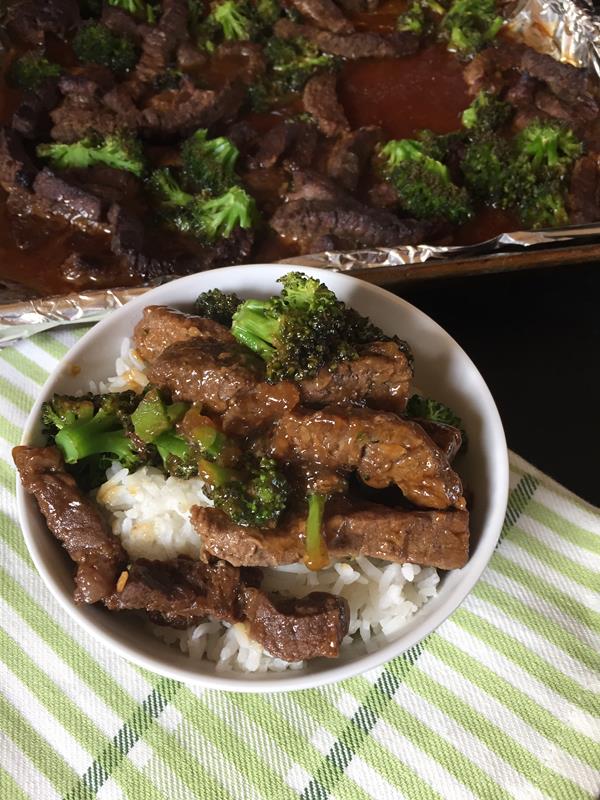 This is a recipe I shared recently that my family really enjoys. I love it served as is, but most of my family enjoys it over rice.
I shared this recipe two years ago and I can't even begin to count how many times I have made it since then. I vary the vegetables based on what I have on hand, but it always turns out great.
This is a recipe from one of my favorite food bloggers. It looks so good. The recipe says to make it in a 9×13 pan, but it is the same basic idea of a sheet pan dinner. If my daughter wasn't allergic to cashews I would so try this recipe.
This isn't exactly a one dish meal because you serve it over pasta, but it is a great sheet pan dinner. This is a meal you can easily make meat free. My family eats this a lot during the summer when there are so many garden fresh vegetables available.
It is no secret that my family loves Mexican and Tex-Mex type of food. This is one of my favorite ways to cook fajitas because they are so easy to make.
I shared this recipe way back in 2010. It quickly became one of the most popular recipes on my site. That was long before sheet pan meals were all the rage. People loved it because it was so easy to make with basic ingredients. The recipe says to make it in a 9×13 pan, but I started making it on a sheet pan years ago when my kids became teens and I needed to make more than a 9×13 pan made.
This is kind of an updated version of my potatoes and sausage but with vegetables added. This is a case where I do actually cook everything at once because I use baby potatoes. I am pretty sure I could eat this meal every night for dinner. I love it.
This is a recipe I am going to try soon. When I saw it recently I knew it had to go on the menu plan. I might change it up slightly, but I love the basic idea.
Do you have a favorite sheet pan dinner? I would love to hear what it is?