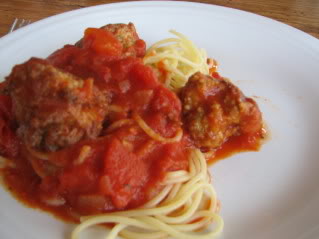 I know a lot of people buy store bought spaghetti or red sauce, like Ragu and Prego. In the past I have purchased it some, but I have never been a big fan of it. Now that I am trying to stay away from packaged and processed things, I never buy it. I have a jar that has been in my pantry for over a year. I just don't use it. Why use it when homemade sauce is so much better and really very easy.
I also think homemade sauce can be more frugal. I know the jars of sauce at the store can be really inexpensive, especially when on sale. But I really don't think homemade costs anymore, especially when I get tomatoes on sale. Plus, I know what goes into it.
I found this recipe several years ago in one of Emerils Kids Cookbook. I love his kids cookbooks. Not so much for cooking with my kids, but for kid friendly meals. And this is one of my favorites from his kids books.
This recipe makes a lot. It makes about three meals worth for us. Four meals depending how I use it. But I like to make it up a batch and freeze most of it. That way I have it ready when I need it. But you may want to half the recipe.
I like to add meat to this for a great spaghetti sauce. I also serve it with my meatballs over pasta. I have used this in a ravioli casserole and also for meatball subs. I use this for all kinds of Italian type recipes.
Now, do you buy your sauce or make it? I am starting to wonder if I am the only one that still makes it.
Yield: 10 servings
Emerils Basic Red Sauce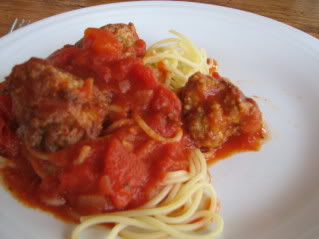 A classic red sauce that is make ahead and freezer friendly.
Ingredients
2 tablespoons olive oil
1 1/2 cups chopped yellow onion
1 teaspoon minced garlic
1/2 teaspoon salt
1/2 teaspoon dried basil
1/2 teaspoon dried oregano
1/8 teaspoon ground black pepper
2 (28-ounce) cans diced tomatoes
2 (15-ounce) cans tomato sauce
3 tablespoons tomato paste
2 cups water
1 teaspoon sugar
Instructions
Heat the olive oil in a large, heavy pot over medium heat.
Add the onions, garlic, salt, basil, oregano, and pepper, and cook, stirring, until soft, about 5 minutes.
Add the tomatoes, tomato sauce, tomato paste, water, and sugar to the pot with the onion and stir well.
Bring to a simmer over medium-high heat.
Lower the heat to medium-low and simmer, uncovered, for 45 minutes, stirring occasionally with a long-handled wooden spoon.
Remove the pot from the heat and use the sauce as needed. You can store this sauce in an airtight container in the refrigerator for up to 4 days, or freeze it for up to 3 months.
Notes
You can serve this with cooked ground beef, cooked sausage, or with meatballs added. r
Nutrition Information:
Yield:
10
Serving Size:
1
Amount Per Serving:
Calories:

51
Total Fat:

3g
Saturated Fat:

0g
Trans Fat:

0g
Unsaturated Fat:

2g
Cholesterol:

0mg
Sodium:

192mg
Carbohydrates:

6g
Fiber:

1g
Sugar:

4g
Protein:

1g
Nutritional values are approximate and aren't always accurate.