This is what our field looked like early this week. I have always loved a field full of hay that has been freshly cut. It is one of my favorite sights of the year. And I am so thankful they got it cut and baled before the rain hit yesterday.
It has been at least a month, if not longer, since we made homemade granola, so it was time to refill our containers. I love keeping homemade granola on hand for breakfasts and snacks. Yesterday I made a batch of chocolate granola and a double batch of crispy granola. Hopefully, this will last at least a week or two.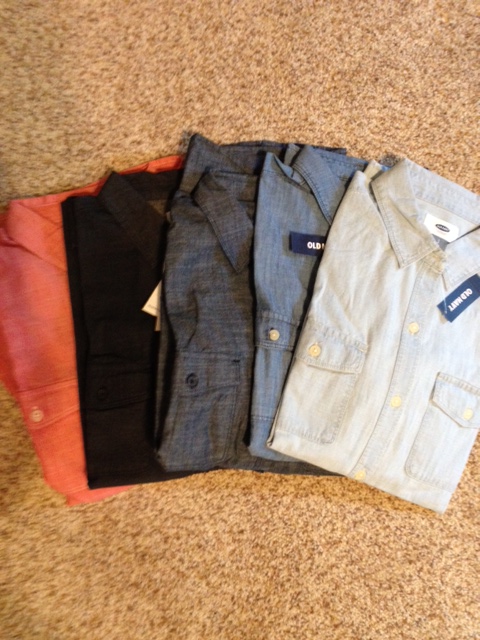 When you are tall and have a really hard time finding long sleeve shirts, and you find a tall sized shirt you love, that fits great, and that is 30% off and free shipping, you might just buy it in every color. Yes, yes I did.
Last year I mentioned how much I loved Old Navy's size tall sweat pants and pj's. Quite a few of you did not know they sold them in talls and loved me mentioning that they sold them. Who wants too short pants even if they are only sweats and pjs. I know I don't and love that Old Navy offers them in talls and in the smaller tall sizes.
And although this is all totally not food related I have another tip today for those that are tall. Old Navy sells small talls in quite a few things! A small tall is so hard to find. Like almost impossible. Talls are often hard to find, but for some reason the smaller sizes in talls are even harder to find. So, when I found an Old Navy shirt that I loved in a small tall, I ordered all the colors they had in stock.
If you are tall and have never looked at Old Navy online, I highly recommend it. They have quite a few talls, for a fairly decent price. And they often run sales which makes for an even better deal.
And please tell me that I am not the only one that will buy multiple colors when they find an item like this that they love. Really I am not the only one am I?
And I was not paid to say all that. Old Navy has no clue who I am, I just love their tall clothes.
I bought these cotton candy grapes at Sprouts this week. My thoughts are that they were just plain odd. They really did taste like cotton candy, but in a grape form. My husband loved them, but the rest of us found them too weird for our tastes.
Have you every tried them?
And this was the view from our front porch earlier this week. I love fall sunsets!
I hope you all have a great weekend!