This Freezer Burrito casserole is simple to make, contains 5 ingredients, and is regular food that happens to be gluten free!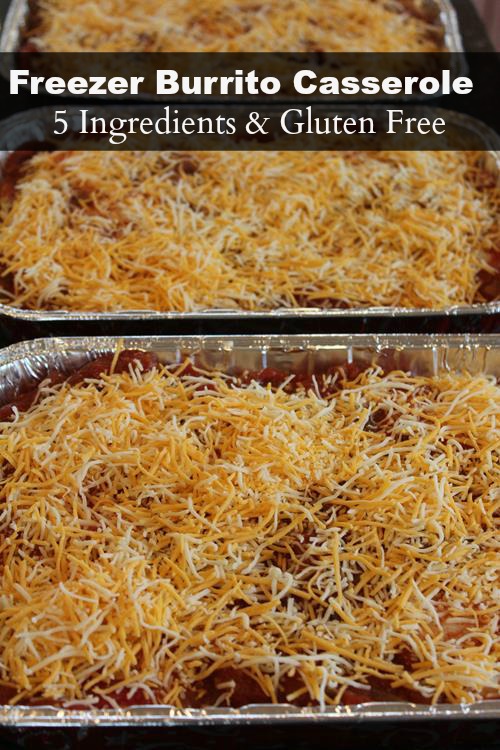 I am always looking for new freezer meals. I love new freezer recipes even more when I can easily make them gluten free. Having meals in my freezer makes dinner on busy days so much easier.
This recipe for Freezer Burrito Casserole is one of my favorite freezer meals. My whole family loves it.
For this freezer burrito casserole I simply adapted one of our favorite 5 ingredient meals.
I have been doing freezer meals for years. When my kids were little, and I was dealing with a lot of health problems, freezer meals were how I got dinner on the table. I cooked a lot when I felt well and froze it for when I didn't.
What I froze back then were mainly whole meals and casseroles. Over the years, as my kids grew and my health problems improved, I changed up how I freezer cooked.
I now mainly freeze the main protein part of the meal. Things like cooked taco meat, cooked chicken, meatloaf, and meatballs. I also like to keep things like chili and soup on hand in the freezer.
However I still love to have a few casseroles in the freezer as well. They are great for busy days, but they also work great for a last minute meal for a friend or potluck dinner.
I make this with corn tortillas in order to keep it gluten free, but if you are not gluten free you can easily use flour tortillas. Or if you are gluten free you can use your favorite gluten free tortilla.
The recipe below is for one casserole. I usually triple it when I make it. That way I can freeze all of them or have one for dinner that night and two for the freezer. You could also easily make four or five of these. It is a really easy recipe to make one or make five.
If you are a smaller family you can also divide this into two smaller pans. Whatever works for you and what you need.
This is one of those recipes that I love to make when I take a meal to someone. It is easy to make. Kids love it. And I can make it ahead and keep it in the freezer to have on hand whenever I need a meal for someone.
Need more 5 Ingredient or Less Dinners? Try these:
Freezer Burrito Casserole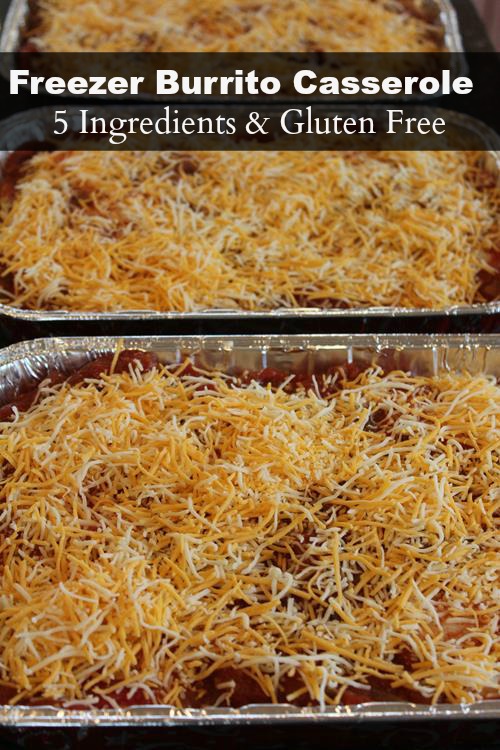 Freezer Burrito Casserole is an easy make ahead recipe using only five ingredients.
Ingredients
1 pound ground beef
1- 15 ounce can chili beans ( I use Bush's Chili Beans because they are gluten free)
1 1/2 cups salsa
1 cup shredded cheddar cheese
12 corn tortillas ( If you are gluten free be sure they are 100% corn)
Instructions
In a skillet brown ground beef until done and no longer pink. Drain off any fat. Let meat mixture cool completely.
Stir in chili beans.
Line a 9x13 freezer safe pan with 6 tortillas. Cutting if needed to fit pan.
Layer meat mixture onto tortillas.
Sprinkle with half of the cheese.
Place remaining 6 tortillas on top of cheese. Cutting if needed to fit pan.
Spread salsa on top of tortillas.
Sprinkle with remaining cheese.
Cover with foil or freezer safe lid and freeze.
Defrost and bake at 350 degrees for 25-30 minutes or until heated through.
You can bake this from frozen, but it will take about 60 minutes to heat completely through. Do not put a cold/frozen glass dish in a hot oven.