If you are looking for something a little healthier for pizza night, this pizza is for you. Asparagus, tomatoes, and fresh mozzarella baked on a homemade pizza crust. Delicious!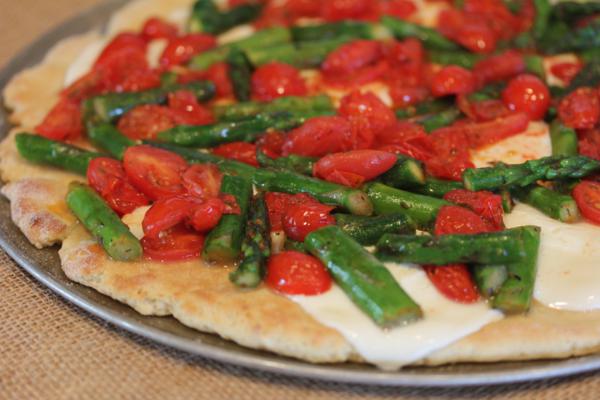 And that is coming from someone that doesn't like asparagus. Yes, I am the only non-asparagus lover in my family, but cover it in cheese and stick it on a pizza crust and I am all for it. This was really good!
What are your thoughts on asparagus? Do you love it or hate it?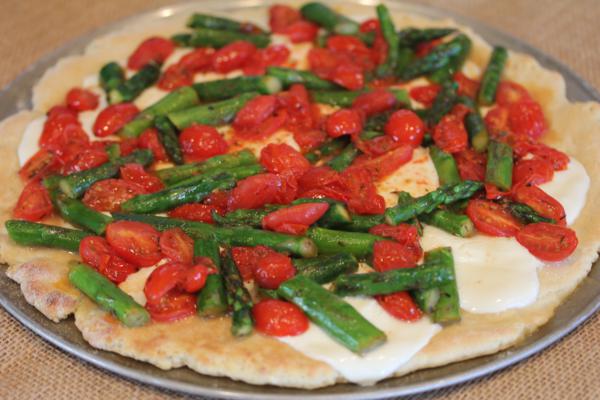 Fresh Asparagus and Tomato Pizza
pizza dough for 1 10 inch pizza- homemade pizza crust, gluten free pizza crust, or store bought
10 spears fresh asparagus, cut into about 1 inch pieces
2 cups cherry tomatoes, sliced in half
1/2 teaspoon salt
1/2 teaspoon italian seasoning
8 ounces fresh mozzarella, sliced
In a skillet cook asparagus in 2 tablespoons of oil until crisp tender. This takes about 3-4 minutes.
Add tomatoes, salt, and italian seasoning. Cook for about 1 minute or until tomatoes just start to release some of their juices.
Prebake crust for about 5 minutes at 425 degrees.
Place mozzarella cheese slices on pizza crust and top with asparagus and tomato mixture. Bake for 10 minutes or until cheese is melted and pizza is done.
Enjoy!