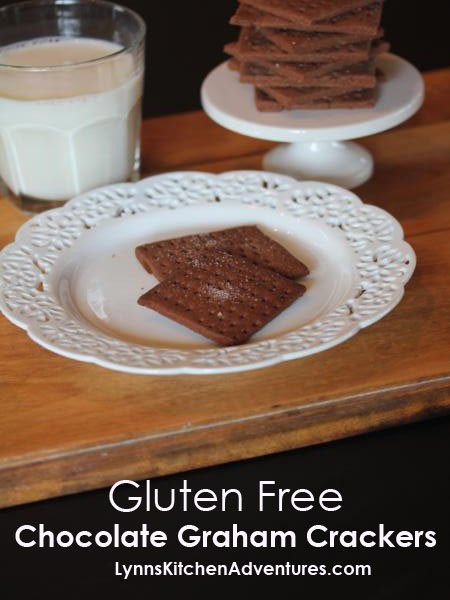 Gluten free chocolate graham crackers anyone?!
If you have gluten free kids these are a must make. They are so good and they are pretty easy to make. Really these are not hard. They take some time, but anyone can make these.
I have a stack of gluten free recipes waiting to be shared with you all, but when I made these earlier this week and they turned out so well, I knew it was a recipe I had to share right away.
I miss graham crackers. They are one of those things that I so wish I could still have. As a kid I always loved eating graham crackers. I loved them plain, dipped in milk, spread with peanut butter, and especially when my mom would spread some leftover frosting on them for a fun dessert. Yes, my love of graham crackers goes way back.
And not only do I love graham crackers for just eating, I love using them for pie crusts and desserts. A simple graham cracker crust makes pie making so easy.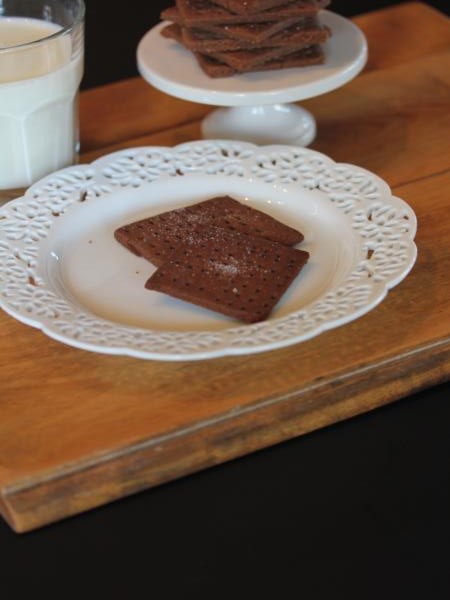 Since going gluten free I have bought several brands of gluten free graham crackers and although they work okay for making pies, they were not that great on their own.
I have also tried to make my own several times, but was not completely happy with the result. I wanted something that would taste great both plain as crackers and for crusts.
So, this week I temporarily gave up on regular graham crackers and decided to give homemade chocolate graham crackers a try. Now, I will go back and keep tweaking the regular ones to find a gluten free version, but for now I thought I needed to branch out and try something else.
Plus, with all the holiday baking coming up, I knew if I could make homemade chocolate graham crackers gluten free then I would have endless possibilities for desserts. So I was set out figuring how to make a really good gluten free chocolate graham cracker.
And it worked. I loved these and my kids loved these. They were delicious! Now, they are not exactly like you would buy in a box at the store. The texture is a little different and they are not as sweet, but they are delicious!
Holiday baking will be much easier now that I have figured these out. I am thinking these will be my few favorite crust to make and it has inspired me to keep working on the regular gluten free graham crackers. So stay tuned for those.
Now go make your kids some gluten free chocolate graham crackers. They will love you for it!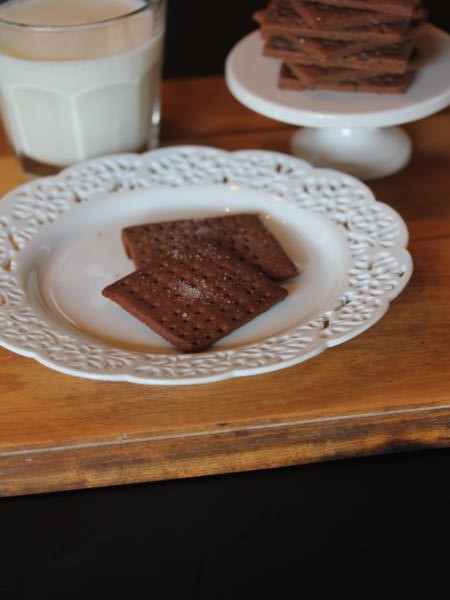 Yield: 12 servings
Gluten Free Chocolate Graham Crackers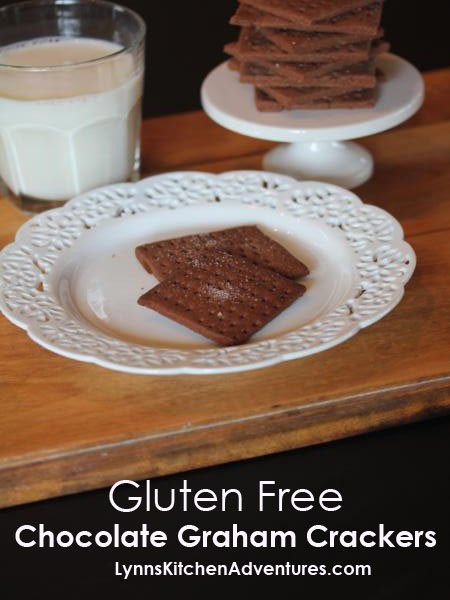 If you or your kids miss graham crackers these gluten free chocolate graham crackers are a must make.
Prep Time
2 hours
2 seconds
Total Time
2 hours
11 minutes
2 seconds
Ingredients
14 tablespoons butter, softened
1/2 cup sugar
2 tablespoons honey
1 cup sorghum flour
3/4 cup brown rice flour
1/2 cup potato starch
1/4 cup tapioca starch
1/2 teaspoon xanthan gum
1/3 cup baking cocoa
1 teaspoon baking soda
1/2 teaspoon salt
Instructions
In a bowl combine sorghum flour, rice flour, potato starch, tapioca starch, xanthan gum, cocoa, baking soda, and salt. Set aside.
In a mixing bowl combine butter, sugar, and honey. Mix until light and fluffy, this will take several minutes.
Slowly add dry ingredients to butter sugar mixture. Mix until combined, scraping down the bowl as needed. Do not over mix, dough should come together, but it will be slightly crumbly yet hold together when pressed in your hands.
Divide dough in half and place each half on a piece of plastic wrap. Flatten slightly and wrap completely in plastic wrap.
Place in the refrigerator for 30 minutes to 1 hour to firm up the dough.
Remove from refrigerator and place on a sheet of parchment paper or on a silicone baking mat. This will make rolling out easier.
Roll dough out into a sheet, dusting with cornstarch or a gf flour as needed to keep the dough from sticking. I used just a little cornstarch and it worked great. This dough does not rise much so roll out into desired thickness. You want it pretty thin, but not so thin that you can not cut it into shapes easily.
Cut into squares or use cookie cutters to cut into shapes. If cutting into squares and you desire a traditional graham cracker look poke the top of the dough using a fork.
Place dough on a cookie sheet that has been lined with parchment paper or a silicone baking mat.
Bake at 350 for 9-11 minutes. If using these for a crust you want them a little crispier so it would be closer to the 11 minutes. And the time may vary depending on the size you make the graham crackers.
These will store for several days in an airtight container.
Nutrition Information:
Yield:
12
Serving Size:
1
Amount Per Serving:
Calories:

273
Total Fat:

14g
Saturated Fat:

9g
Trans Fat:

1g
Unsaturated Fat:

4g
Cholesterol:

36mg
Sodium:

305mg
Carbohydrates:

36g
Fiber:

2g
Sugar:

12g
Protein:

2g
Nutritional values are approximate and aren't always accurate.
Note: The ones pictured on my site I sprinkled with sugar to try to get a more graham cracker look, it all fell off and made a mess when eating them, so you can skip that step and I did not put that step in the directions. 🙂