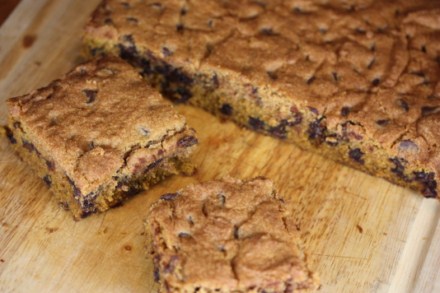 I love pumpkin desserts during the fall and winter. And just because I eat gluten free does not mean that I have had to give up my pumpkin desserts.
In fact, I have found that gluten free and pumpkin go very well together. The moisture from the pumpkin, and the strong flavor that is has, really enhances gluten free baking. It also helps cover up some of the texture and taste issues that gluten free flours often have.
These gluten free pumpkin bars are a recipe that I have seen several times on various sites. I first saw them on Martha Stewart and I recently saw a version of them on Two Peas and Their Pod.
It was after I saw Two Peas and Their Pod's version that I knew I had to try these gluten free. I mean what could be a better fall dessert than chocolate and pumpkin together in a cookie bar.
I decided to try tweaking a few things to make them gluten free and gave them a try. And I am so glad that I did.
The gluten free version turned out perfectly. We loved these and the pan of cookie bars were gone in no time.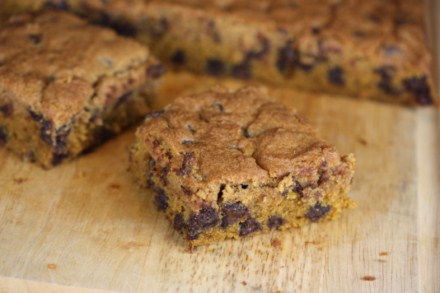 Gluten Free Chocolate Pumpkin Bars
1 ¼ cups rice flour
½ cup sweet rice flour
¼ cup cornstarch
½ teaspoon xanthan gum
1 teaspoon cinnamon
1 teaspoon baking soda
¾ teaspoon salt
1 cup butter, room temperature
1 ¼ cups sugar
1 egg
2 teaspoons vanilla
1 cup canned pumpkin puree (not pie filling)
2 cups chocolate chips
Line the bottom of a 9×13 baking pan with foil. This will help the bars come out of the pan easily.
In a bowl mix together rice flours, cornstarch, xanthan gum, cinnamon, baking soda, and salt. Set aside.
With a mixer cream together sugar and butter until smooth. This will take several minutes.
Beat in egg. Then add vanilla.
Beat in pumpkin. The mixture may have a funny texture after you add the pumpkin, but that is fine.
Gradually add dry ingredients and mix just until combined. Stir in chocolate chips.
Spread batter into foil lined pan.
Bake at 350 for 35-40 minutes.
Let cool in pan and then remove from pan and cut into squares. Preheat oven 350 degrees.