Gluten Free Friendship bread is a delicious gluten free version of the classic Amish Friendship Bread recipe!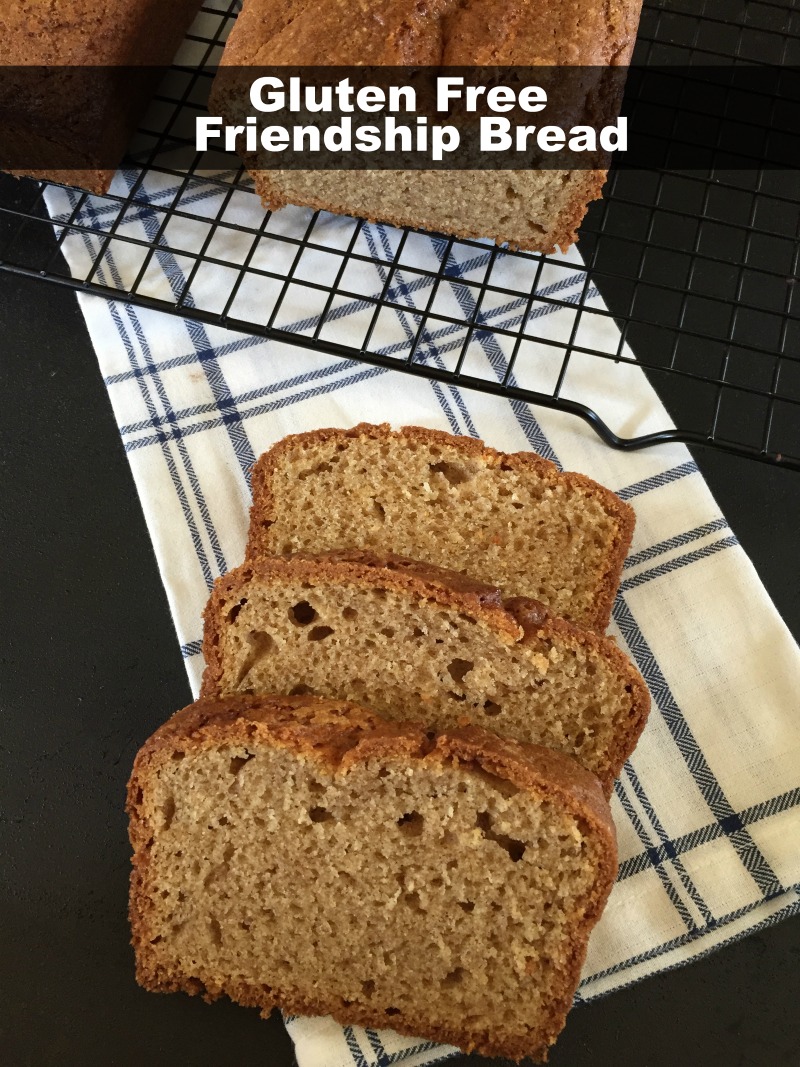 Did you grow up in the late 1980's or 1990's? Do you remember the friendship bread that was so popular?
It was the recipe where a friend gave you a bag or jar of starter to make your own bread. You added to the starter, made the bread, and gave some of the starter on to a friend.
Some of you may have no clue what I am talking about. Others of you are going YES, my mom made that all the time. Or I made that bread and my family loved it.
For those of you that don't know or remember what I am talking about it, it was a bread starter/recipe that was popular in the 1980's and 1990's. It probably started long before that, and might have been popular after that, but that is the time frame that I remember it.
My best friend's mom made it all the time when I was a teenager. Then when my husband was in college, and we were newly married and in our "poor" years, it went around the wives of the college group we hung out with. It went around the church group and other groups of friends too.
There was a five or so year period where this bread kept circling around and everyone seemed to be making it and giving away starter.
And it was so good!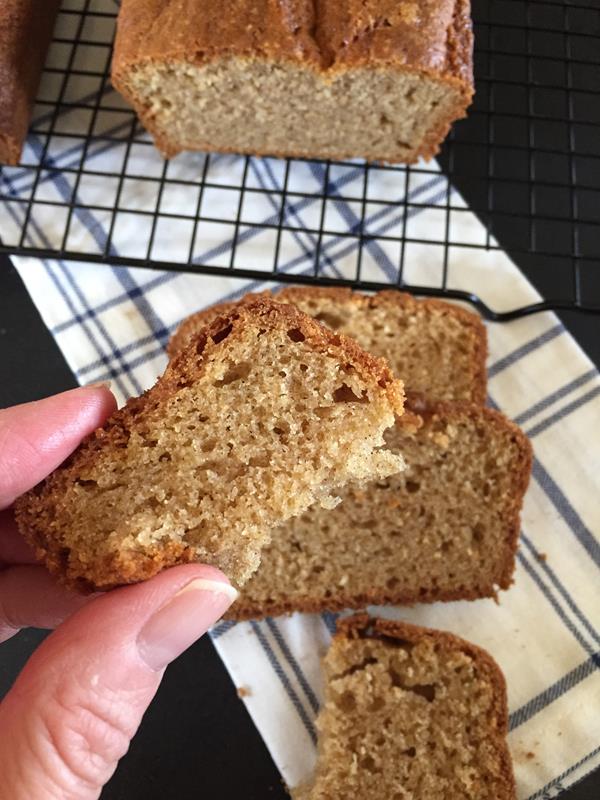 The basic recipe was similar to a sourdough type of recipe, but it was a sweet bread dessert type of starter. Most of the time the starter was in a ziploc type of bag. There was directions to add to the starter and to make the bread.
You kept some of the starter for yourself, so that you could keep making the bread, and you gave the rest to friends. That is where the name friendship bread came from.
I used to make this bread all the time. My husband loved it. He is not a huge dessert eater, but he loved this bread. Over the years I got tired of making it and trying to keep the starter going, so I stopped making it.
The bread became less popular, we went gluten free, and I kind of forgot about it. That was until earlier this year when I saw several recipes online for a homemade nonstarter version of the classic Amish Friendship Bread.
It brought back so many memories and I instantly wanted a piece. Isn't it strange how food can do that. You can go years and years without thinking about a certain food and all of the sudden something triggers your memory and you long for that food again. That is what happened to me and this bread.
I saw the recipe and had to have it.
The problem is that I am gluten free. I couldn't just make the bread. It was obviously full of gluten and I couldn't have it, but I really really wanted it.
I knew I had to come up with a nonstarter gluten free version. It took a few, okay quite a few, tries to get this one right. I tried it with a premade gluten free flour blend and it didn't work right. It was okay, but it wasn't like the original. It was just off texture and taste wise.
So I worked on using different individual gluten free flours until I came up with a version that tasted just like I remembered.
My husband tasted the gluten free version and he basically said, "This is it. This is just like I remember." Then he went on to eat most of the loaf all by himself.
And that is when I know that I have perfected a gluten free version of a favorite food. When those in my family that don't eat gluten free, love a gluten free food, I know I got the recipe right.
If you are gluten free and miss friendship bread this is a must try! If you are gluten free and have no clue what friendship bread is, this is still a must try. It is a dessert type of bread that is so good. Kind of like a cross between a quick bread and a coffee cake.
A quick note though. I will say this has an ingredient that some may not feel safe giving their family. It contains a box of vanilla pudding. I always use the Jell-0 brand instant pudding. The real stuff, not the off brands. From the research I have done, I feel it is gluten free and safe for my family. Kraft is usually very good about labeling gluten in it's products. But please do what you are comfortable with and what is safe for your family.
Love quick breads and need more gluten free ones. You might like these.
Now for the recipe!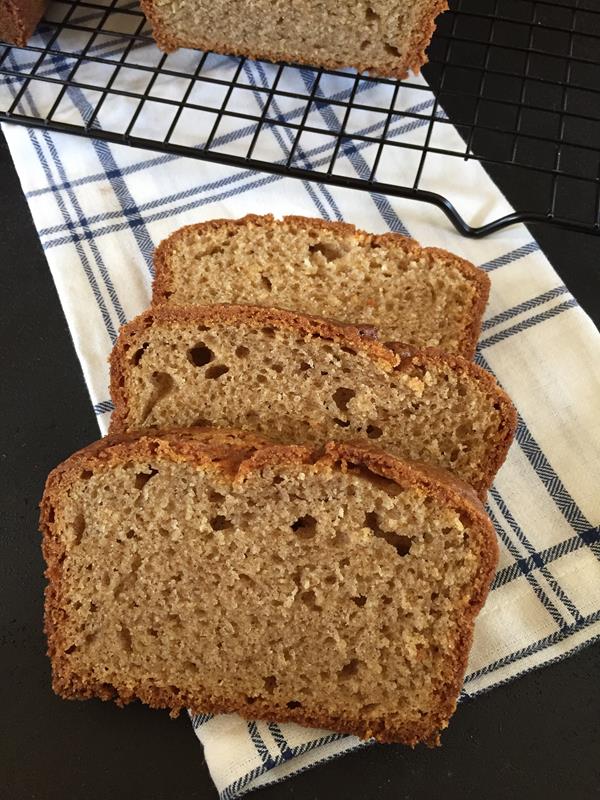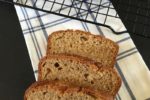 Gluten Free Amish Friendship Bread
A homemade gluten free version of the classic Amish Friendship bread. This is so good that you will not know it is gluten free.
Ingredients
3

eggs

1

cup

oil

1

cup

buttermilk

1

cup

sugar

1/2

teaspoon

vanilla

2

teaspoons

cinnamon

1 1/2

teaspoons

baking powder

1/2

teaspoon

baking soda

1/2

teaspoon

salt

1

cup

white rice flour

1/2

cup

potato starch

1/2

cup

tapioca starch

1/2

teaspoon

xanthan gum

1

small box

instant vanilla pudding (3.4 ounce)

You use the dry pudding, do not mix up.
Topping
1/2

cup

sugar

1/2

teaspoon

cinnamon
Instructions
Preheat oven to 325 degrees.

Grease two loaf pans and set aside.

In a bowl combine cinnamon, baking powder, baking soda, salt, white rice flour, potato starch, tapioca starch, and xanthan gum. Set aside.

In a large mixing bowl combine eggs, oil, sugar,buttermilk, and vanilla. Stir until well combined.

Stir in flour mixture and box of vanilla pudding. Mix until well combined.

The topping is optional, but good. In a small bowl combined 1/2 cup sugar and 1/2 teaspoon cinnamon. Sprinkle half of the mixture in the bottom of the loaf pans and turn pan to coat. You are basically coating the pans with the cinnamon sugar mixture.

Pour batter into pans, dividing batter evenly between the two pans. Sprinkle remaining topping mixture if using, on top of the batter.

Bake for 55-60 minutes or until toothpick inserted into the center of the bread comes out clean.

Let bread cool in pan for about ten minutes. Then remove loaves from pan and cool on wire rack.