Gluten Free Oatmeal Cream Pies are a homemade gluten free version of a favorite treat!
Do you miss those famous store bought oatmeal cream pies? I do!
Overall I am a chocolate person. I love chocolate. But there are a few desserts, like the famous oatmeal cream pies, that I have missed since going gluten free
Over the last few years I have been working on getting a homemade gluten free version just right. It has taken quite a few tries, but I finally developed a version that my family loves!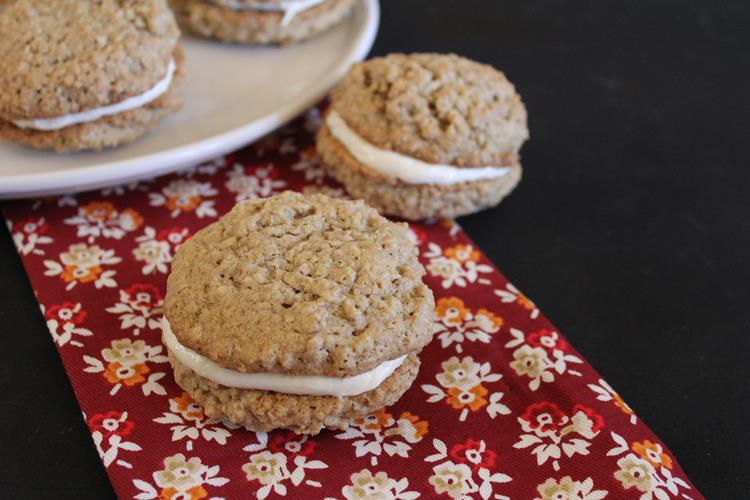 I was determined to get this recipe right for a new ebook project I am working on. I was going to save it for the ebook, but after tasting them last weekend when I made them, I knew I had to share them with you now. I couldn't wait to share the recipe.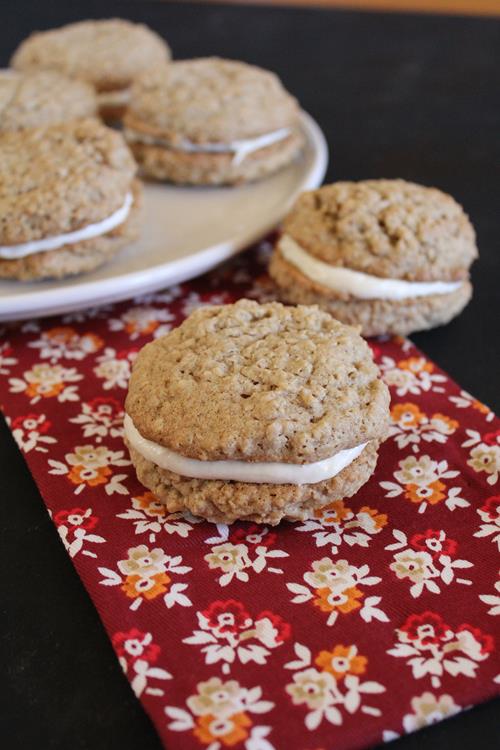 My gluten eating husband declared these better than the real thing. He loved them! I loved them too. I will admit though that they are not 100% the same.
Don't get me wrong, they are delicious. I agree with my husband that they are really really good, but like many gluten free things the texture is not quite the same. Good. But not 100% the same. I just want to add that little disclaimer. 🙂
But if you loved the real ones please make these. Please. I think you will love them! They are really that good.
I did make them large for the pictures. I wanted them as close to the real thing as I could get. However, they are large. It is a lot of cookie to eat. Actually it is two really large cookies and some frosting that you end up eating. Good, but a lot. In the future I will make them a little smaller and more normal sized.
Now go make yourself some homemade gluten free oatmeal pies!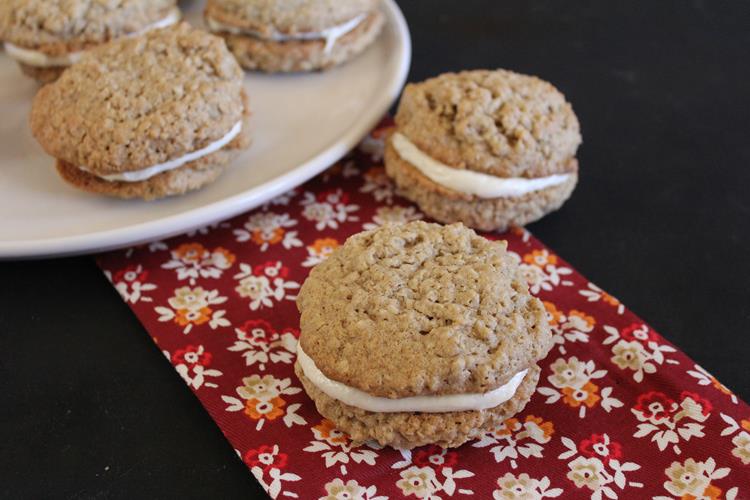 Yield: 10 cookie sandwiches
Gluten Free Oatmeal Cream Pies
If you miss those famouse oatmeal cream pies these gluten free oatmeal cream pies are a must make!
Additional Time
5 minutes
Ingredients
Cookies:
1 cup butter, softened
¾ cup brown sugar
½ cup sugar
2 eggs
1 teaspoon vanilla extract
¾ cup white rice flour
½ cup sweet rice flour
¼ cup cornstarch
½ teaspoon xanthan gum
1 teaspoon baking soda
1 teaspoon ground cinnamon
½ teaspoon salt
3 cups gluten free quick cooking oats
Filling:
½ cup butter, softened
2 cups powdered sugar
½ teaspoon vanilla extract
1-2 teaspoons milk
Instructions
Preheat oven to 350 degrees.
In a mixing bowl cream together butter, brown sugar, and sugar until light and fluffy. This will take 3-4 minutes.
Add eggs and vanilla and mix until well combined.
Scrape down sides of the bowl.
In another bowl combine rice flour, sweet rice flour, cornstarch, xanthan gum, baking soda, cinnamon, and salt.
Gradually add to creamed mixture.
When flour mixture is well combined add oats. Mix just until combined.
To make large cookies drop 3 tablespoons of dough on to cookie sheet for each cookie. Flatten slightly. For smaller cookies use 2 tablespoons. For more uniform cookies use a cookie scoop.
Bake for 11-13 minutes depending on the size of the cookies.
Let cool on cookie sheet for 5 minutes. Remove to wire rack to cool.
To make filling:
In a mixing bowl combine butter, sugar, and vanilla. Mix for about 4-5 minutes or until well combined and smooth.
Add enough milk while mixing for desired consistency.
Spread filling on cookies.
This makes about 10 filled cookies.