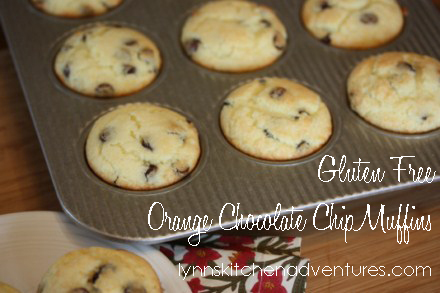 After sharing my most recent gluten free disaster earlier this week, I thought I better share a good recipe with you all. After all, I did not want you to think I was losing my gluten free baking abilities.
Gluten free baking is challenging. I have learned that disasters are just part of it and I have come to expect them occasionally.
The good things about disasters though is that they make recipes that turn out that much better, because you appreciate the fact that the adapting to be gluten free actually worked.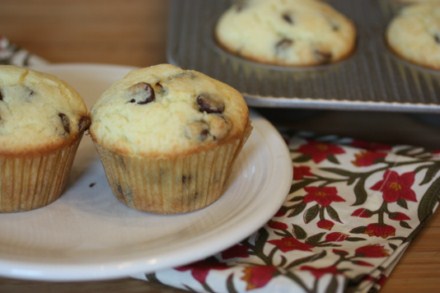 Over time I have learned that some recipes are easier to adapt than others. One of the things that usually stands out in a recipe I am trying to adapt is ingredients like citrus. The strong flavors and acidity in citrus work really well with gluten free flours.
This recipe today is an example of that. The orange in these muffins is so good. Not only does it work well with the gluten free flours, it adds a nice depth of flavor to them.
And the chocolate, well chocolate is good in just about anything.
These muffins are tender and moist and so good. We love these them for breakfast, a snack, and even dessert.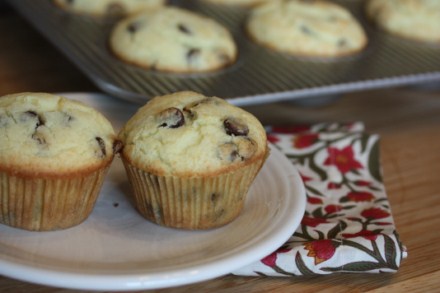 Gluten Free Orange Chocolate Chip Muffins
1 1/4 cup white rice flour
1/2 cup sweet rice flour
1/4 cup cornstarch
1 cup sugar
1 teaspoon baking powder
1/2 teaspoon salt
1/2 teaspoon baking soda
1 egg
2 tablespoons butter, melted
1 teaspoon vanilla extract
1/2 cup orange juice
1/2 cup buttermilk
1 cup semi sweet chocolate chips
In a bowl combine rice flour, sweet rice flour, cornstarch, sugar, baking powder, salt, and baking soda and set aside.
In a separate bowl whisk the egg, butter, vanilla, orange juice, and buttermilk.
Stir in flour mixture until just combined.
Stir in chocolate chips.
Scoop into greased or paper lined muffin tins. Fill each cup about 3/4 full.
Bake at 350 for 18-20 minutes or until muffins test done with a toothpick.
Cool on wire rack. Serve and enjoy!