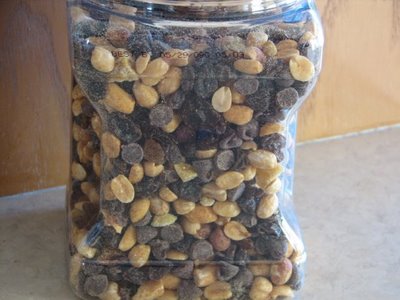 My kids must be going through a growth spurt. Two of my kids think they are always starving. I mean always. My son especially is constantly asking for a snack. He is very tall and very thin, so when he says he is hungry I figure I should probably give him at least something to eat.
My problem though has been coming up with healthy and quick snacks. I like things that I can tell them to get themselves. Like, yes you may go get some raisins. But they are getting tired of dried fruit or regular fruit.
So, this is what I did. I made my own trail mix. It is much cheaper then buying it. Plus, if I make it I can control what goes into it. I can put all kinds of dried fruit and or nuts in it. My kids love it when I put chocolate chips or m&m's in it. I know that makes it less healthy, but it is nice for a treat.
The trail mix that I made most recently contained peanuts, raisins, gourmet raisins that I got on sale, dried bananas that I cut up, and some chocolate chips. My son helped me make this and he thought it was fun. I like it because now I have a snack that my kids can grab a handful of and be satisfied, well for at least five minutes anyway.
For more kitchen tips see Kitchen Tip Tuesday and Blissfully Domestic.