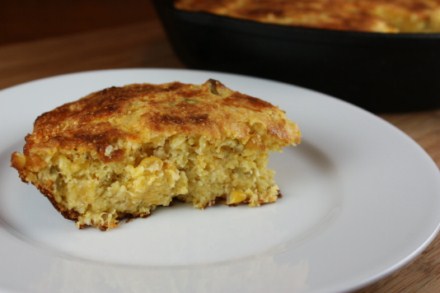 My family eats a lot of chili during the winter and cornbread is the perfect accompaniment to chili. I almost always serve cornbread when I serve chili. They just go together.
We love a basic cornbread, but once in a while I like a cornbread with a little more flavor and spice to it. This cornbread is just that, it is a basic cornbread, with a little something extra.
What is the extra in this cornbread? Well, it is the green chili and cheese, but what I really think makes this cornbread good is the addition of sour cream and the can of creamed corn. They help keep this corn bread so moist and good.
If you are serving chili any time soon, this cornbread would make a wonderful addition to your meal.

Green Chili and Cheese Cornbread
1 tablespoon shortening
1 cup yellow cornmeal
1 teaspoon baking powder
½ teaspoon baking soda
½ teaspoon salt
1 (8-ounce) container sour cream
1 (8 1/2- ounce) can cream-style corn
2 eggs
1 cup shredded Cheddar cheese
1 (4.5-ounce) can chopped green chilies, drained
Place shortening in 9-inch cast-iron skillet and heat in a 450 degree oven for 3-5 minutes or until melted. (This does work best baked in a hot pan)
Combine cornmeal, baking powder, soda, and salt
In a separate bowl, combine sour cream, corn and eggs, mix well. Add to dry ingredients to wet ingredients, stirring until moistened. Then Stir in green chilies and cheese.
Pour the batter into a hot skillet.
Bake at 450 degrees for 23 to 25 minutes or until brown. Let stand 5 minutes before serving.
Adapted from Southern Living