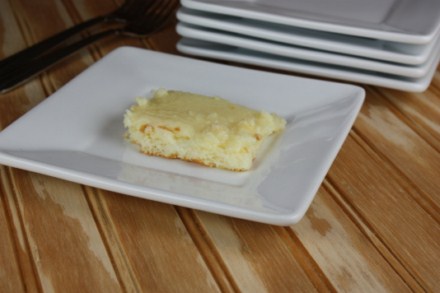 I have been making pudding cakes for years. I love them. They are the perfect combination of cake and pudding.
Last year I adapted my chocolate pudding cake to be gluten free and it has become a family favorite.
When my friend Toni sent me some of her lemons, I knew that it would be a perfect time to adapt my lemon pudding cake to be gluten free.
This lemon pudding cake was so easy to adapt. It only contained a few tablespoons of flour, so it was easy to adapt by using rice flour and cornstarch. It turned out perfectly and my whole family enjoyed it.
Gluten Free Lemon Pudding Cake
2 large eggs, separated, room temperature
2 tablespoons butter, softened
2/3 cup sugar
¼ cup lemon juice
1 tablespoon rice flour
1 tablespoon cornstarch
1/8 teaspoon salt
1 cup milk
Heat the oven to 350 degrees.
Grease 2-quart baking dish.
Beat the egg whites to soft peaks and set aside.
Mix the butter and sugar together until fluffy, about 2 minutes. Add the egg yolks and mix well.
Add the rice flour, cornstarch, and salt and beat until combined.
Add the lemon juice and milk and beat until incorporated. Fold in the egg whites.
Pour the batter into the prepared dish. Place the dish in a larger baking pan and add enough boiling water to the outer pan so that it reaches halfway up the sides of the inner dish. You are creating a water bath.
Bake until the top is golden and the center springs back when gently pressed, 35 to 40 minutes. Transfer the dish to a rack to cool completely.
Enjoy!
This post linked to Gluten Free Wednesdays.