Make onion soup mix at home with this easy to make homemade onion soup mix recipe.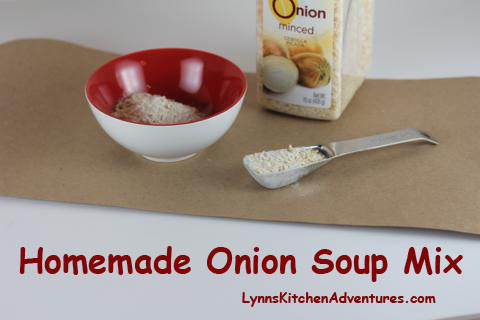 The response to my new homemade series has been wonderful. I am so glad you all are looking forward to this series. Homemade versions of your favorite foods are usually cheaper and healthier and I can't wait to share many more of them with you this year.
Last week I shared homemade cheeseburger helper and today I am sharing homemade onion soup mix.
There are many versions out there for homemade onion soup mix and I have tried many of them over the years. After trying so many, I pretty much gave up because I could not find one my family liked.
My husband, who is the least picky eater in the family and eats almost anything, could always tell a difference when I used the homemade onion soup mix, so I always ended up going back to the boxed kind.
Really I do not use onion soup mix in many things, but there are a few recipes, like my roasted onion potatoes, that my family loves and I would keep onion soup mix on hand for.
When food issues entered our life, I was determined to figure out a homemade version we liked because onion soup mix is no longer gluten free. Yes, they put gluten in the strangest things.
I knew what I had tried in the past had not worked, so I decided to start by reading what exactly was in onion mix. In the past I had tried other people's recipes, this time I started by simply reading the label to figure it out.
It did not take long for me to figure out what my family was missing. It was sugar.
Sugar is the fifth ingredient in onion soup mix and corn syrup is also listed as an ingredient lower down on the list. The real stuff was sweet, much sweeter than I ever knew. They missed the sweetness and caramelized flavor that the sugar gave the regular version.
None of the homemade versions I had tried contained sugar. Missing ingredient one was found and I was closer to figuring this out. I did not want to add a lot of sugar, but I was willing to try adding a little to see if it would be closer to the real thing.
I also noticed cornstarch on the list of ingredients, in fact, it was the third ingredient, so higher than sugar on the list. I had never tried cornstarch in my homemade versions either, but I was willing to try it as well to see if I could get it right.
All the tweaking, investigating, experimenting, and adding of a little sugar and cornstarch was worth it. I finally came up with a version my family loves. My husband said it was the closest to the real thing that I have tried.
My search for a homemade onion soup mix is over.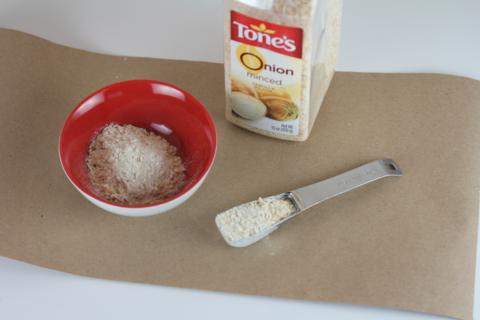 Yield: 6
Homemade Onion Soup Mix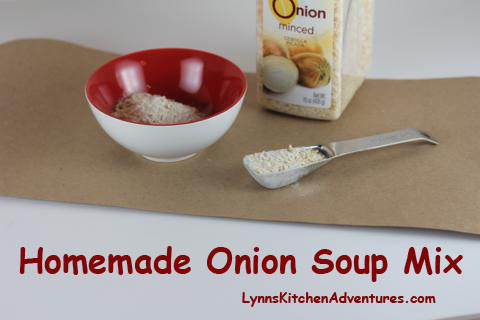 Onion soup mix is easy to make at home with this homemade onion soup mix recipe.
Ingredients
4 teaspoons beef bouillon powder/granules (If you are gluten free be sure to use a gf beef bouillon)
4 tablespoons dried minced onions
1 teaspoon onion powder
1/4 teaspoon celery salt
1 teaspoon cornstarch
1 teaspoon sugar
Instructions
Mix all together and store in an airtight container or use as directed in recipes. I like to double or triple this to make a large batch.
1/4 cup equals 1 package.
Nutrition Information:
Yield:
6
Serving Size:
1
Amount Per Serving:
Calories:

13
Total Fat:

0g
Saturated Fat:

0g
Trans Fat:

0g
Unsaturated Fat:

0g
Cholesterol:

0mg
Sodium:

398mg
Carbohydrates:

3g
Fiber:

0g
Sugar:

1g
Protein:

0g