I am loving the new crock pot series and I hope you all are as well. I am so glad I decided to do this challenge this year. It is forcing me to be more creative with what I make using the crock pot. I often just made the same old things because we liked them and they were easy to make.
Now, I am forced to be more creative. I am coming up with new ideas and also recreating old favorites for the crock pot. This is a good thing because not only will my family get more variety, but I will have lots of new recipes to share with you all.
My goal is to offer a lot of wide variety of recipes over the course of the year. Last week I shared a crock pot pork chop recipe, this week we are covering chili, and next week I will be sharing a chicken recipe.
We all have different likes and dislikes. We all have different budgets and schedules. We all need something different, so for this series my goal is to cover a wide range of recipes and ideas. I want there to be something for everyone.
Now let's talk chili.
Chili and crock pot cooking just go together. Chili cooked low and slow makes for the perfect cold weather food. Today's recipe is one of my favorite chili recipes. Cooked low and slow and so good at the end of the day.
You might be wondering why it is called cattle drive chili. Well, this recipe is adapted from a recipe I saw on the food network years ago. Like back when the food network was a fairly new channel that not many people watched.
There was a show on that featured Sara Moulton, called Cooking Live, and I loved the show and watched it when I could.
One of the shows was all about cowboy cooking. She had a guest chef that came on and showed what cowboy type cooking was all about. Cattle Drive Chili was one of the recipes he shared and I knew I had to try it because it was simple, but hearty.
My husband's favorite way to eat chili is to keep it simple. He likes it hearty, meaty, and spicy and Cattle Drive Chili is all those things.
I shared the original version of Cattle Drive Chili a few years ago and it is the version I have been making for probably close to ten years, if not more. The original recipe was cooked on the stove top for 1 1/2- 2 hours and I cooked it that way for years without varying it very much.
Recently though I was short on time and decided to cook it in the crock pot instead of the stove top and we loved it even more than the original version. Low and slow made the flavors of this chili so much better and I wished I had tried it a long time ago.
If you like a simple, but hearty chili with a lot of flavor you will love this. Serve it with fresh homemade cornbread and it is even better.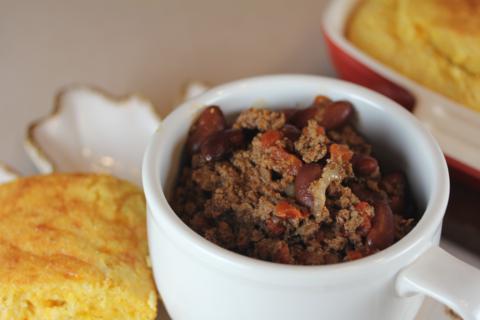 Cattle Drive Chili
1 pound ground beef ( ground venision is also very good in this chili)
1/2 teaspoon salt
1/2 cup thinly sliced onions
3 tablespoons chili powder combined with 3 tablespoons water – You can use less chili powder if you do not like it spicy
1 can diced tomatoes
1 tablespoon sugar
1 can red kidney beans, rinsed and drained
Brown beef in hot skillet.
Place in a crock pot and add salt, onions, chili powder mixture, diced tomatoes, sugar, and kidney beans.
Cook on low for 6-8 hours.
Serve and enjoy!
This is the perfect chili to make a large batch of and keep in the freezer for busy days.