Those of you that have read my blog for awhile know that I am trying to avoid packaged and processed things. Vanilla extract was one of those things that I had never thought about really being processed. I never thought about making my own. But after seeing a couple of sites talk about making their own vanilla extract I thought I might give it a try.
I know what you are probably thinking, because I thought it at first too, why make your own? Well, have you looked at your bottle of extract, if it is like mine it contains corn syrup? Yes, corn syrup. I have no idea why they put corn syrup in vanilla, but they do.
Have you noticed the other ingredients in your extract? Alcohol, yes extracts contain alcohol, most around 30% some more. So, before some of say you can't believe I am doing this, alcohol is alcohol. What I am using for this extract is 40% alcohol, so, what I am making is no different than the extracts you are buying in the stores.
So here are the ingredients: vodka
and vanilla beans.
Pretty simple isn't it. When I decided to do this I had no idea what vodka costs. We have never bought or even looked at vodka. I sent my husband to the liquor store, quite a distance from where we live and where he practices. I can just hear what people would say when they saw the local dentist/church deacon walking out of the liquor store with a bottle of vodka. I am sure rumors would fly. 🙂 Since we don't ever buy hard liquor, he had no idea if different vodka would make a difference for my project, so he just bought the cheapest bottle, which was $6. I am assuming for vanilla extract cheap is fine, but I could be wrong.
Now on to the vanilla beans, these were expensive. There was no way I was going to buy them in the store at about $5 a bean, because I needed 10 vanilla beans. There are a lot of sources online, but I wanted to order it from someone reputable. I decided to order the Vanilla Beans
from Amazon. (Update: I have ordered from several different sellers on Amazon and they have all been fine. I read some of the reviews before I order, but have never had a problem.)
As far as the cost, overall this is cheaper than most store bought real vanilla extract. It will depend on where you buy your vanilla though. If you buy it from a warehouse store like Sam's or Costco it may be cheaper to buy it. But I am not doing this for the cost. I am doing it so that I know what is in it. Also, from what I have read online homemade extracts taste much better.
This project is really easy, but it does take patience. All you do is make a slice down the side of the vanilla beans. You want to cut into the bean, but not completely through the bean.
You then place 10 beans into a bottle of vodka.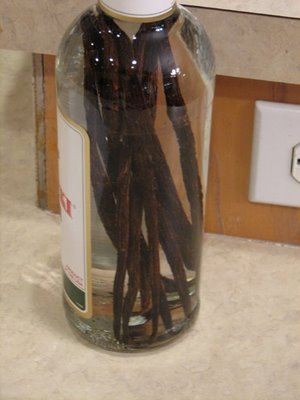 Then you let it sit for several months, shaking it once a week. I dated the bottle so that I would know the date I started it.
Here is what my vanilla looked like at one week.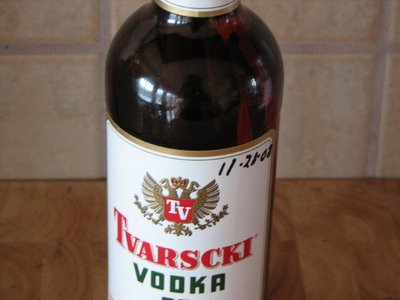 See it is already looking like vanilla extract. I will keep you posted on my vanilla project. My vanilla should be ready to use in a few more weeks. I am curious to see if I see a difference then using the store bought extracts. I do know that I will now have a really large supply of vanilla.
So have any of you ever made homemade vanilla extract? If so is it better? Do you think it is cheaper?