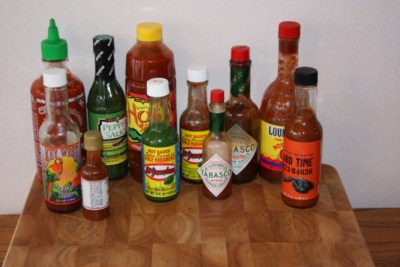 This is our hot sauce collection. Well, I should say this is my husband's hot sauce collection.
Can you tell he likes his food spicy? Not only does he like his food spicy, he likes the right sauce for the right food, and I have to say I agree with him on this one.
Chinese hot sauce makes all the difference in Asian cooking. Tabasco just doesn't taste the same in those recipes. However, for things like eggs, our family grabs the Tabasco or Louisiana style hot sauce.
For Mexican food my husband like Mexican style hot sauces. I have to say I disagree with him on this one, but mainly because I don't like super spicy food. I think most Mexican food is spicy enough and does not need extra sauce. His opinion though is if Mexican food is not spicy enough you can add hot sauce to it to make it better.
This collection of hot sauces takes up quite a bit of room in my cupboard and fridge, but I really don't mind. In general hot sauce is inexpensive. They normally cost a couple dollars for a bottle and they last a long time.
I can take a simple bean or rice dish and add a lot of flavor and depth to it, by adding a few drops of hot sauce. So, I look at hot sauces as an inexpensive way to add a lot of flavor to a simple meal.
So how much hot sauce is in your house? Does your collection look anything like ours?