I am making Joanna Gaines Banana Bread gluten free! The end result is so good that no one will not know that it is gluten free.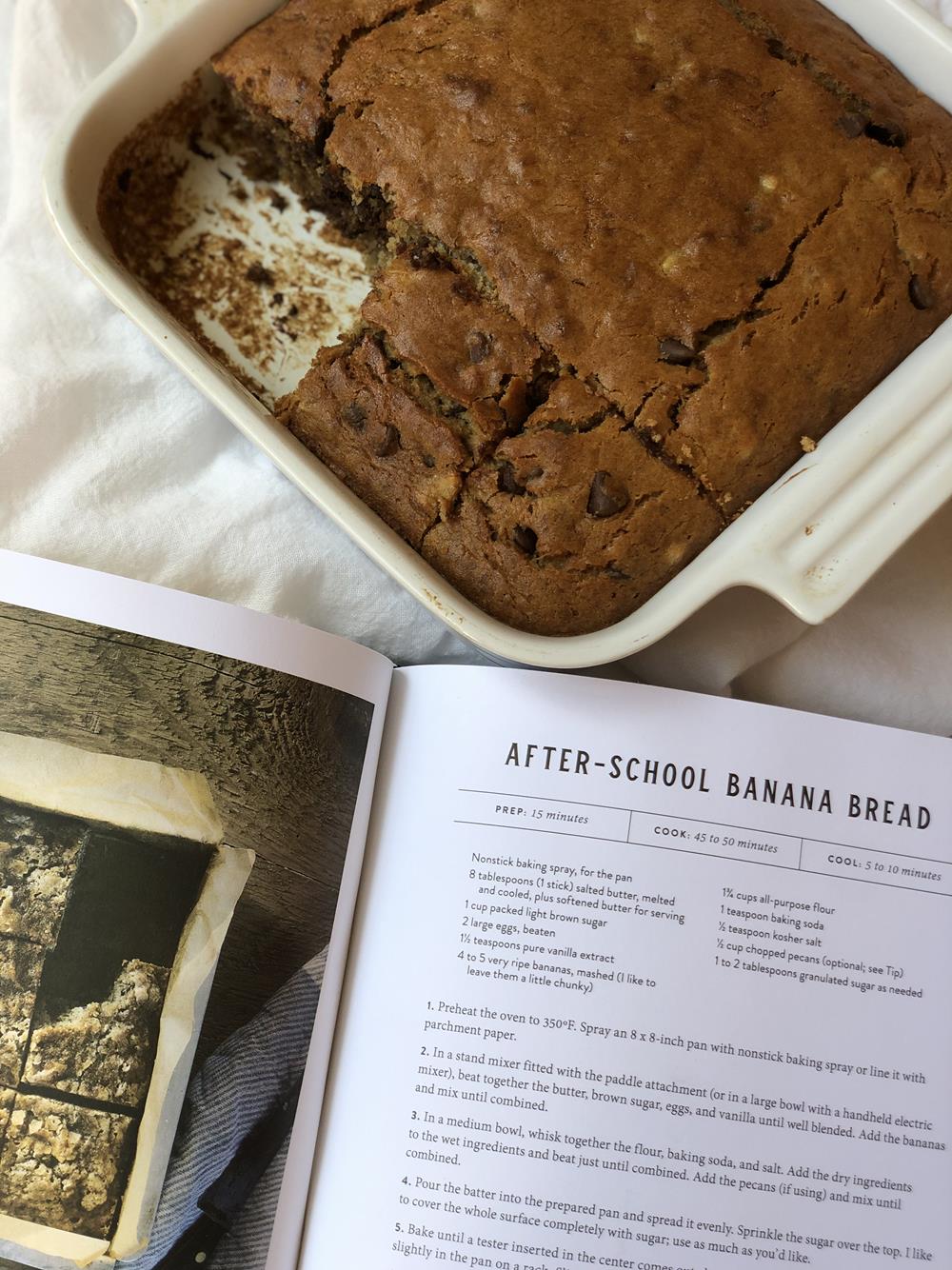 Have you seen Joanna Gaines After School Banana Bread online and wished you could make it gluten free? Today I am showing you how.
Last summer my husband went to a conference for work in Texas. As soon as I knew he was headed to the Waco/Austin area I said that I wanted to go with him.
I knew that my daughter and I could keep busy visiting a few places while he worked. On our list to visit were Book People in Austin, Fabled Books in Waco, and of course Magnolia.
My daughter and I have mixed feelings about Magnolia. We are glad we went, but we don't get the hype. It wasn't quite what we were expecting. Most people seem to love it, so I think we are in the minority on that though.
Most of the items at Magnolia were pretty over priced, but since I didn't have Joanna's cookbooks I thought they would be a fun item to buy at Magnolia.
The majority of the recipes in the cookbooks are not gluten free, but I knew that I would have fun adapting them to gluten free.
One of the first recipes that I wanted to try was Joanna's After School Banana Bread.
I have made Joanna Gaine's banana bread gluten free at least five times since I got the cookbook. Some things worked better than others when adapting it, but I finally have a version that I am ready to share.
Cooking Through Cookbooks
Last year I did a Year of Martha Stewart Cooking Challenge where I challenged myself to cook from my Martha Stewart Cookbook Collection.
This year I wanted to do something similar but with all my cookbooks since I have quite a cookbook collection.
This is the first post in my new series. Sometimes I will just share a recipe and a cookbook that I love.
I have some vintage cookbooks that I can't wait to cook from.
Sometimes I will share how I adapted recipes to gluten free. Along the way, I will also share disasters and recipes that were not worth making.
Today's recipe though is a winner!
I am sharing how I made Joanna Gaines's banana bread gluten free, but if you are not gluten free you find the original recipe for Joanna's Afterschool Banana Bread here.
What Makes Joanna's After School Banana Bread Special
Joanna Gaines does a few things that make her banana bread different than other recipes.
First of all, she makes it in a square cake pan instead of a loaf. This makes it more cake like than bread like.
I don't think that makes it super special because you can do that with pretty much any quick bread recipe. A quick bread can usually be made in a loaf pan, cake pan, or into muffins.
The main difference I noticed with the After School Banana Bread was the number of bananas in the recipe. It calls for four or five bananas instead of the usual two bananas.
The recipe also uses only brown sugar instead of a mix of regular sugar and brown sugar.
Besides making it gluten free, I added chocolate chips because my family loves chocolate chip banana bread.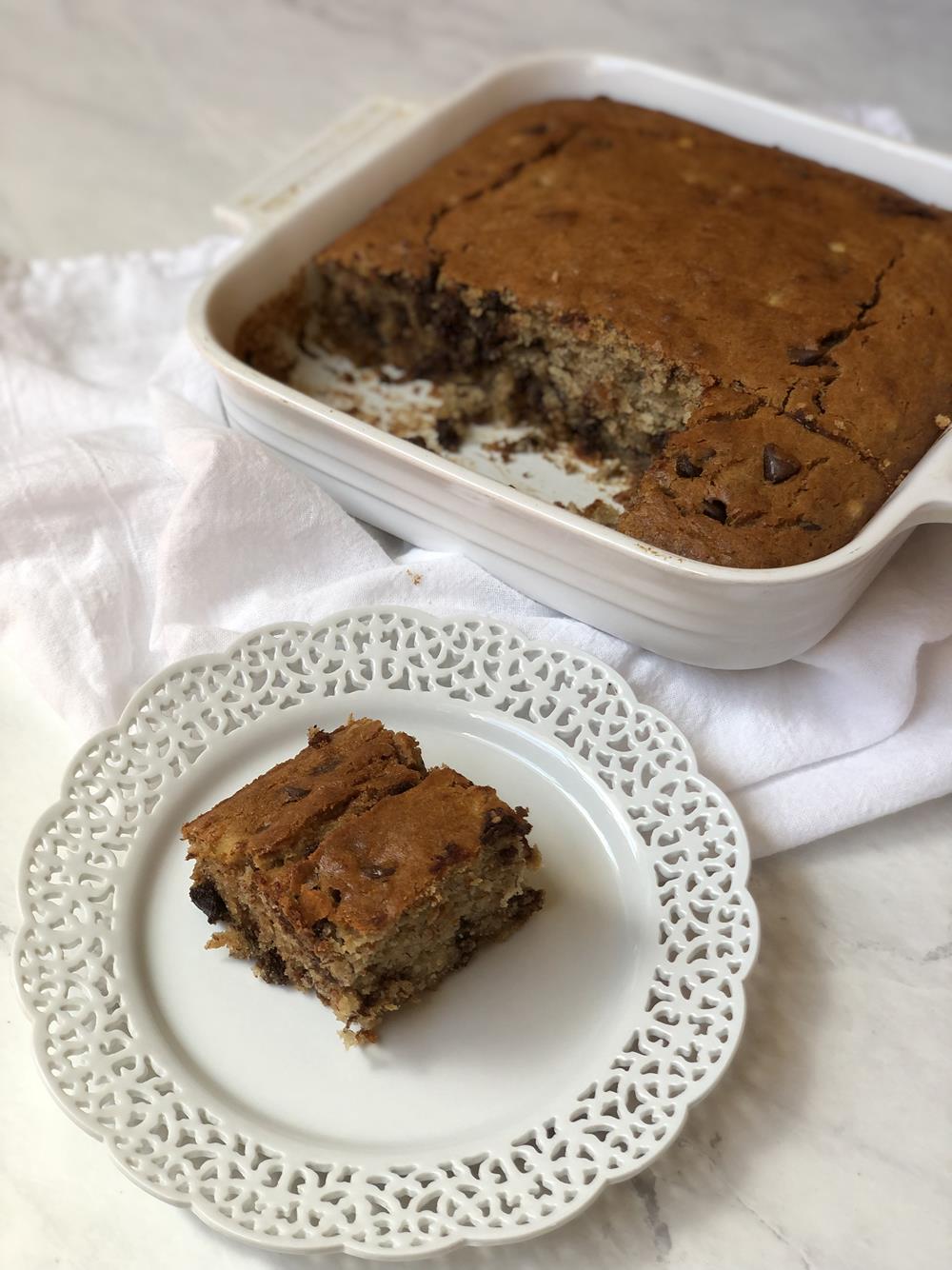 How To Make It Gluten Free
The first thing I tried when making it gluten free was a gluten free flour blend. I tried several of them.
Bob's Red Mill 1 to 1 Gluten Free Blend was my favorite.
King Arthur's worked, but the texture was not quite as good.
Krusteaz gluten free flour blend worked but made the banana bread a little dry, so you need to cut back the flour by a couple of tablespoons if using this blend.
This is an example of why one blend doesn't work in every recipe. What works for one recipe won't necessarily work in all recipes.
My favorite way to make Joanna Gaines After School Banana Bread gluten free though is with individual gluten free flours. That is how I am sharing it today.
The taste and texture really were the best with the individual flours instead of a blend.
Ingredients
white or brown rice flour
potato starch
tapicoa starch
xanthan gum
baking soda
salt
butter
brown sugar
eggs
vanilla extract
bananas
More Gluten Free Banana Bread Tips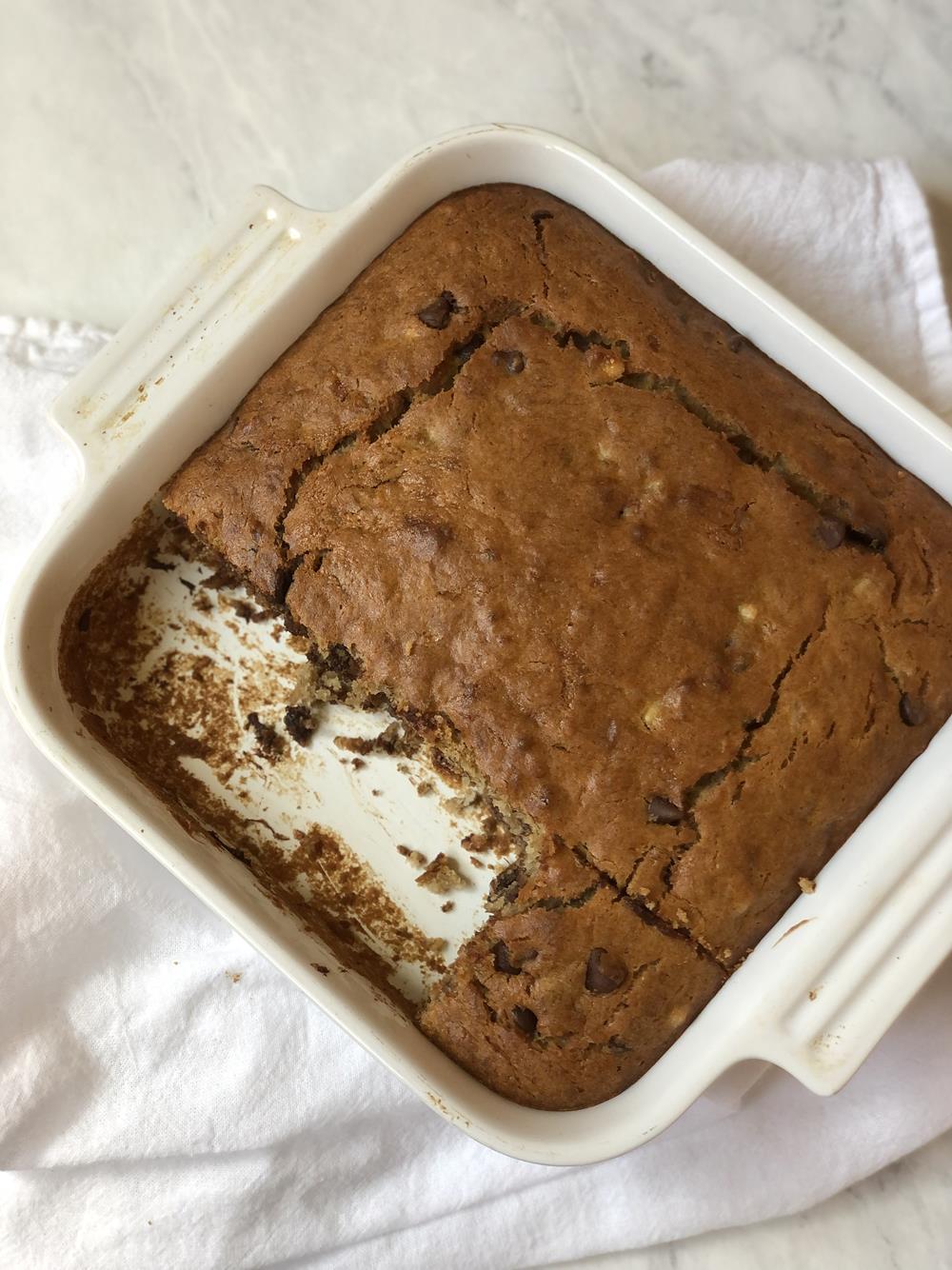 Yield: 9 servings
Joanna Gaines Banana Bread Made Gluten Free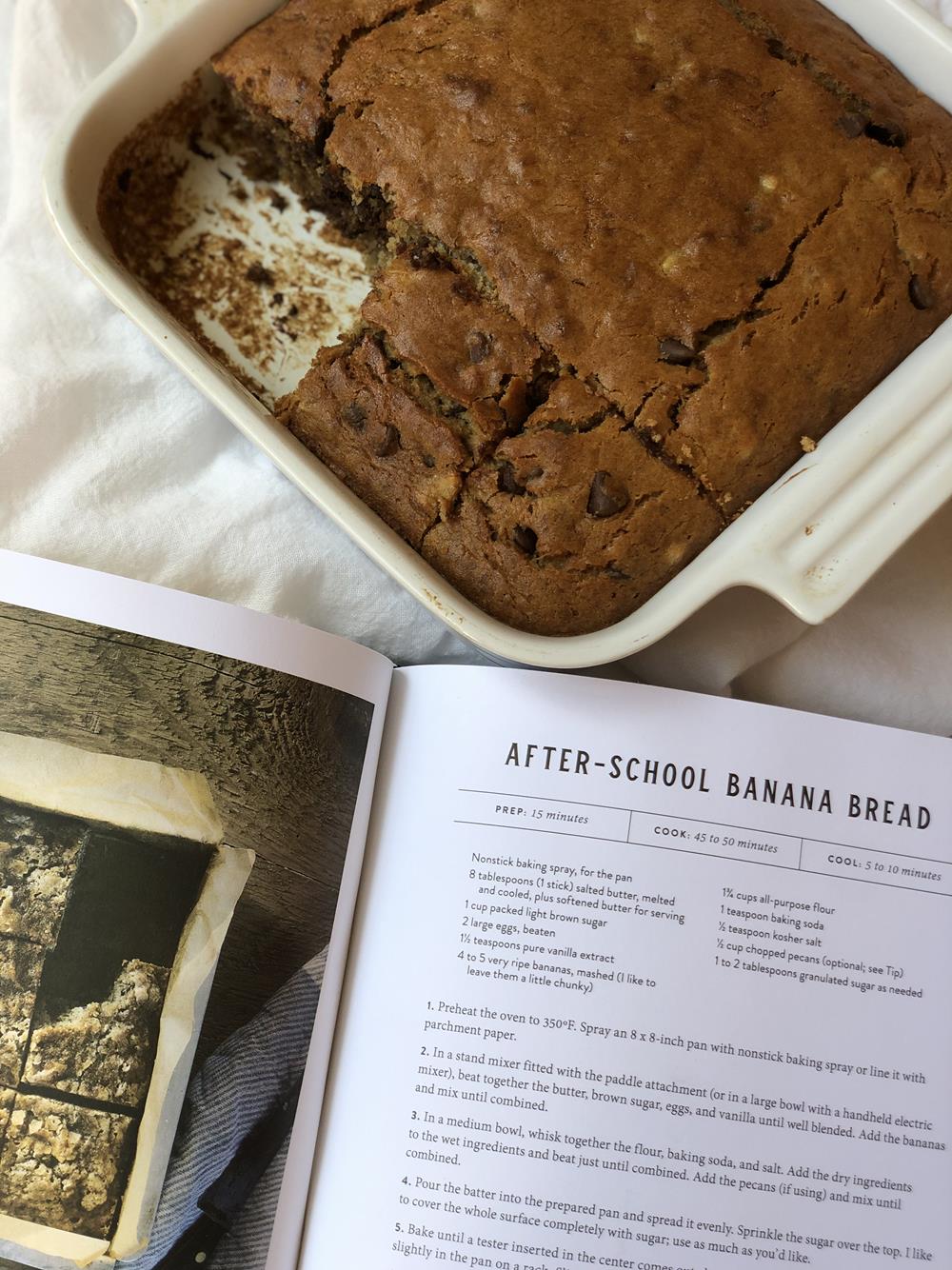 Joanna Gaines famous Banana Bread made gluten free. So good that you won't know that it is gluten free.
Ingredients
2/3 cup white or brown rice flour
3/4 cup potato starch
1/2 cup tapicoa starch
3/4 teaspoon xanthan gum
1 teaspoon baking soda
1/2 teaspoon salt
1/2 cup butter, melted and cooled
1 cup brown sugar
2 eggs
1 1/2 teaspoons vanilla extract
4 or 5 bananas, mashed
optional - 1/2 cup gluten free chocolate chips
Instructions
Preheat oven to 350 degrees.
Grease an 8x8 or 9x9 baking pan. Or line with parchment paper.
In a bowl mix together rice flour, potato starch, tapioca starch, xanthan gum, baking soda, and salt. Set aside.
In stand mixer mix together butter, brown sugar, eggs, and vanilla until well blended.
Add bananas and mix until combined.
Add the flour mixture to the banana mixture. Mix until combined.
Stir in chocolate chips if using.
Spread batter into prepared pan.
Bake for 45-48 minutes or until the toothpick inserted into the center comes out clean.
Let bread cool, or at least cool slightly, before cutting.
Notes
1 3/4 cup Bob's Red Mill 1 to 1 Flour Blend can be substituted for gluten free flours and xanthan gum. See post for additional notes and tips for using gluten free flour blends.
Nutrition Information:
Yield:
9
Serving Size:
1
Amount Per Serving:
Calories:

391
Total Fat:

15g
Saturated Fat:

9g
Trans Fat:

0g
Unsaturated Fat:

5g
Cholesterol:

68mg
Sodium:

371mg
Carbohydrates:

64g
Fiber:

4g
Sugar:

34g
Protein:

5g
Nutritional values are approximate and aren't always accurate.