I am finally getting around to posting about my kitchen remodel. Yes, it has taken me some time to get these posts up. There is something about a kitchen remodel that kind of makes life a little crazy for a few months.
Add on to that all the little things that I wanted to be sure were done before I shared pictures, and it has taken me a lot longer than I planned to share what we did.
Today I am starting with my old kitchen though and what did not work about it. This is a long post, but I hope you don't mind. I wanted to fit all the old kitchen information into one post, so I could move onto the new kitchen and what we did.
I will start by saying that overall my old kitchen was fine. It functioned in that it had the basics and in general was in good shape. The house was built around 15 years ago. It looked like most kitchens from the 1990's as far as that goes. The colors were neutral and the quality was good. Which is why we lived with it for nine years before tackling the project.
However the function of the kitchen was very lacking and we always knew we wanted to redo it someday. It was pretty much a one person kitchen that was not designed for someone that loved to cook or that cooked a lot.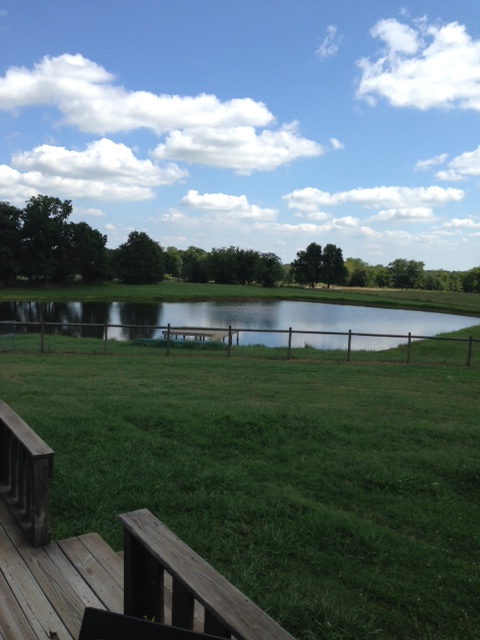 I will admit the view above, which is the view from my kitchen area, made it a little easier to ignore all that did not work in it. Thankfully the view did not change and I now have both a great view and a kitchen that functions well.
But let's focus on what did not work in the old kitchen.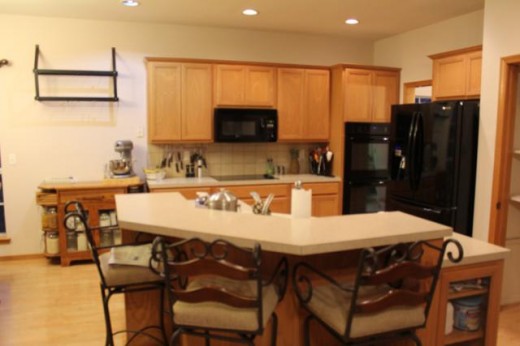 I apologize for the poor quality of some of these pictures. I almost forgot to take pictures before we started tearing out things and I had trouble with my camera lens and did not realize it in time to retake the pictures. But I think you can tell enough even with slightly blurry pictures.
That was the view of my kitchen from my living room area. Off to the left was a small eating area and to the right you can see a little bit of the small, and I do mean small, pantry that I had. It may be hard to tell in the picture, but the overall area was pretty small.
The bar area was great and we loved it. The counter space in the kitchen however was very lacking.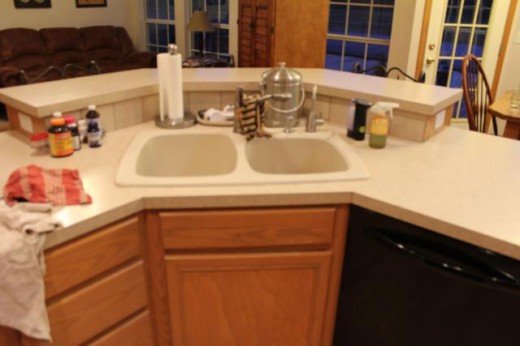 This is the other side of that bar area. I had a small space on either side of the sink. Not much space for doing much at all. That bank of drawers were basically the only drawers in the kitchen.
The other side of the kitchen offered a little more counter space, but not much. You can see the small area on either side of the stove top was all I had for cooking and prep space.
You can pretty much tell how little cabinet and drawer space I had in the kitchen.
One of the biggest things I did not like about my kitchen was that it was a one person kitchen. It might be hard to tell in the pictures, but if more than one person was in the kitchen it was really hard to move around.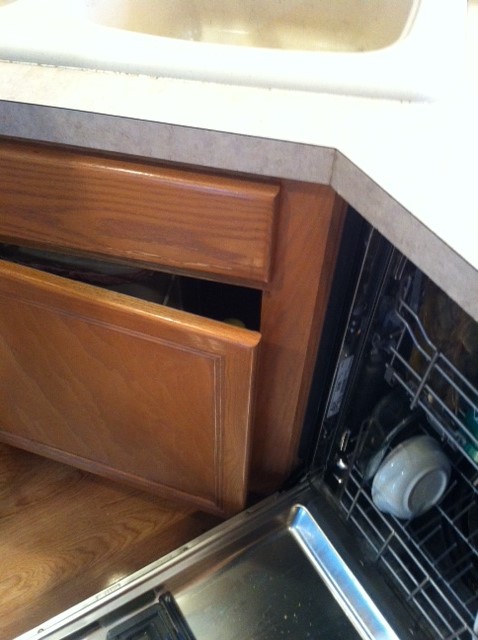 Oh and this was another thing I really did not like. You could not open the dishwasher and get to the trash at the same time. There was really no place in the kitchen for a trash can besides under the sink. So if anyone was doing dishes you could not get to the trash.
And the switch for the garbage disposal was under the sink in that cabinet. So, if you forgot to open the sink before you opened the dishwasher you could not run the disposal unless you closed the dishwasher to open the cabinet. Whoever put the garbage disposal switch under the sink was not thinking about that issue. Just saying……
So when doing dishes you usually stood at the sink with the cabinet open and the dishwasher open. Basically you were wedged in between the two. It worked, but it created another minor problem and that was that you could not get into the drawers next to the sink. Those drawers held the kitchen towels because there was no other place to put them.
One thing I did not get a picture of was opening the refrigerator. When anyone was at the sink with the dishwasher open you basically could not get the fridge open. Well, you could open it, but there really was no place to stand while opening it without running into the person at the sink and the open dishwasher.
It was basically a major traffic jam.
Now, like I said before overall the kitchen was fine. The cabinets were nice. The counter tops were in good shape. It worked, it just did not function well for us. I wanted a kitchen that multiple people could work in. I have two girls and I love to spend time with them in the kitchen.
We also enjoy entertaining and I wanted a space that worked well for that. I also wanted enough space that I could actually store things like my crock pot in my kitchen, not in another room.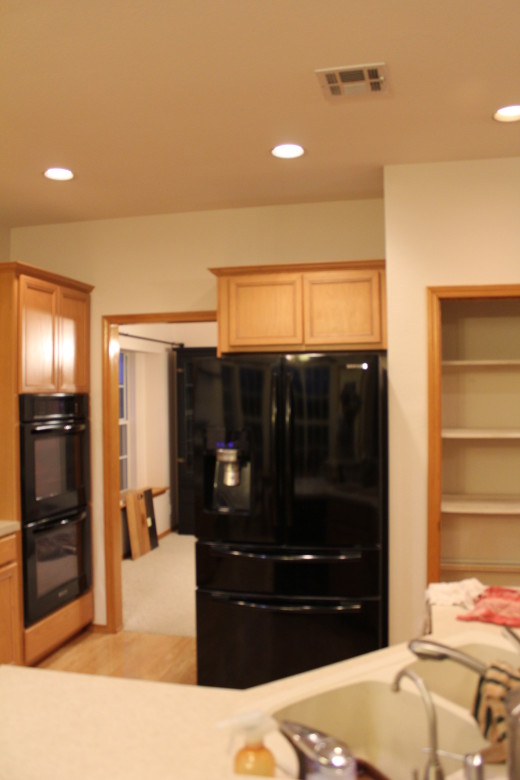 If you went through that doorway between the oven and fridge you went into a small formal dining room and then into a formal living room.
Neither of them were formal though. We are not formal people and did not really use those rooms for much. They were closed off from the kitchen and main rooms we used.
The formal dining room was not large, but we did keep a small table in there. We also had one whole wall lined with storage shelves for food and small kitchen appliances. Basically it was a large pantry that was open for everyone to see.
That dining room became a catch all for kids stuff, craft projects, food props for the website, and just about everything else. It drove me crazy, but it worked until we could redo it all.
So what did we change? You will have to wait until next week when I share pictures and what we did. I will also share where I choose to spend money and where I choose to save.
It involves taking down walls and opening things up. New cabinets, floors, and lots of storage and counter space. I can't wait to show you to final results.