Mexican meatballs are a simple meatball recipe made a little different with chilies, chips, and Mexican seasonings.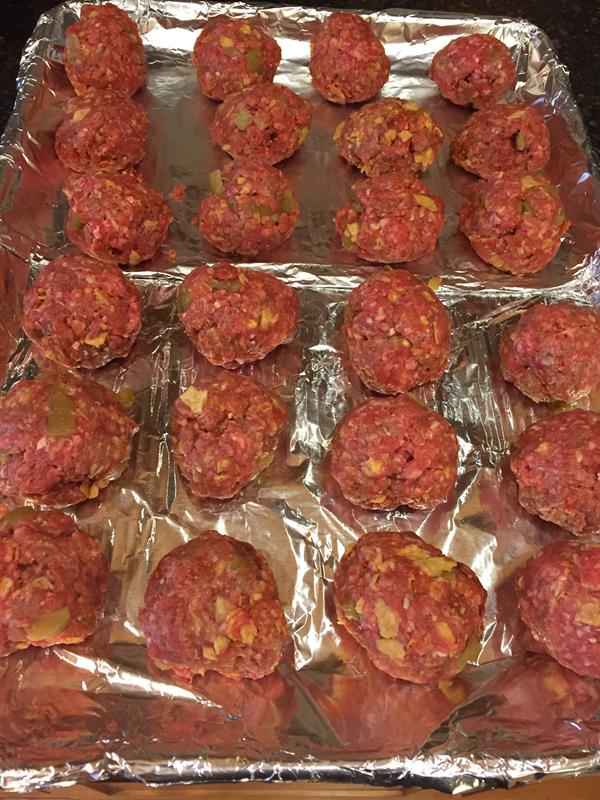 Meatballs are one of my favorite things to make in large batches to cook once eat twice or to freeze for easy meals later on.
I also love that meatballs can be used in so many ways. These meatballs are great on their own with homemade refried beans and Mexican rice on the side. They are also great wrapped up in tortilla with beans and cheese. It kind of makes a meatball burrito when served that way.
The fully cooked meatballs can also be cut in half and used in quesadillas. You could drop them into a taco soup instead of using regular ground beef or chicken.
One of my kids has even been known to eat these leftover for breakfast. Monday I will sharing one of my favorite ways to serve these which is in the enchilada casserole pictured below.
These really can be used in so many ways.
You can freeze these before or after cooking them. I prefer making them, cooking them, letting them cool completely and then freezing them. That way they are fully cooked and ready to use when I need them. But you can easily make them, freeze them, and then cook them when you are ready to serve them. Either way they make a great freezer meal.
These meatballs are also gluten free because they don't have breadcrumbs in them. Because they are Mexican I used crushed tortilla chips in them. As long as your tortilla chips are gluten free, which most are, these are gluten free.
They are regular food that just happens to be gluten free. Which makes them a great meal for regular eaters and gluten free ones.
I tried to find a picture of the finished cooked version of these meatballs and I couldn't find one. I guess I forgot to take one…So you get a picture of the raw meatballs instead. Ignore the ugly raw meat picture and know that these are delicious!
Tools That Make these Easier To Make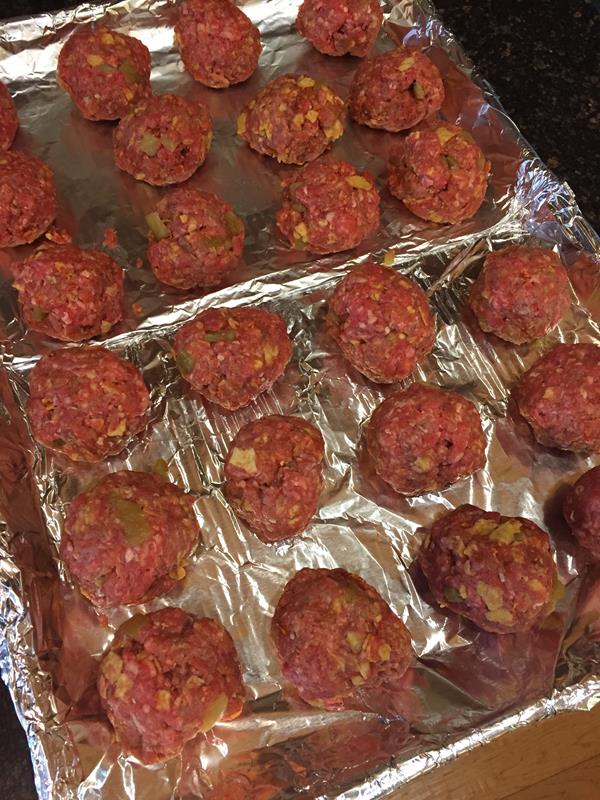 Recipe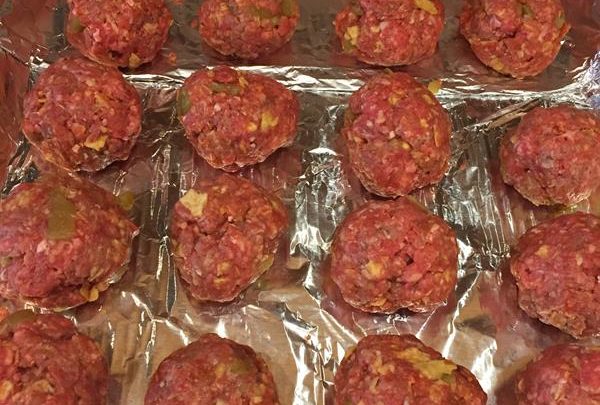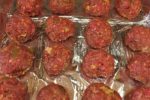 Mexican Meatballs
Easy and delicious way to change up your basic meatballs.
Ingredients
2

pounds

lean ground beef

1

green or red pepper

chopped

1 - 4.5 ounce

can

chopped green chilies

2

cloves

minced garlic

1

teaspoon

onion powder

1

teaspoon

paprika

1/2

teaspoon

chili powder

1/2

teaspoon

salt

1/2

teaspoon

ground black pepper

1

cup

crushed tortilla chips

1

egg
Instructions
Preheat oven to 350 degrees.

Line 2 cookie sheets with foil and set aside. You don't have to line the cookie sheet with foil, but it will make cleanup much easier.




In a large bowl combine all ingredients. Mix together until well combined. I use my hands for this in order to get it all mixed together well.

Using a large spoon or cookie scoop form meat mixture into meatballs. This makes about 36 meatballs for me, but that will vary depending on the size you make them.

Bake for 35-45 minutes or until done. The time will vary depending on the size that you make them.