Homemade biscuits are easy by using a simple recipe for drop biscuits.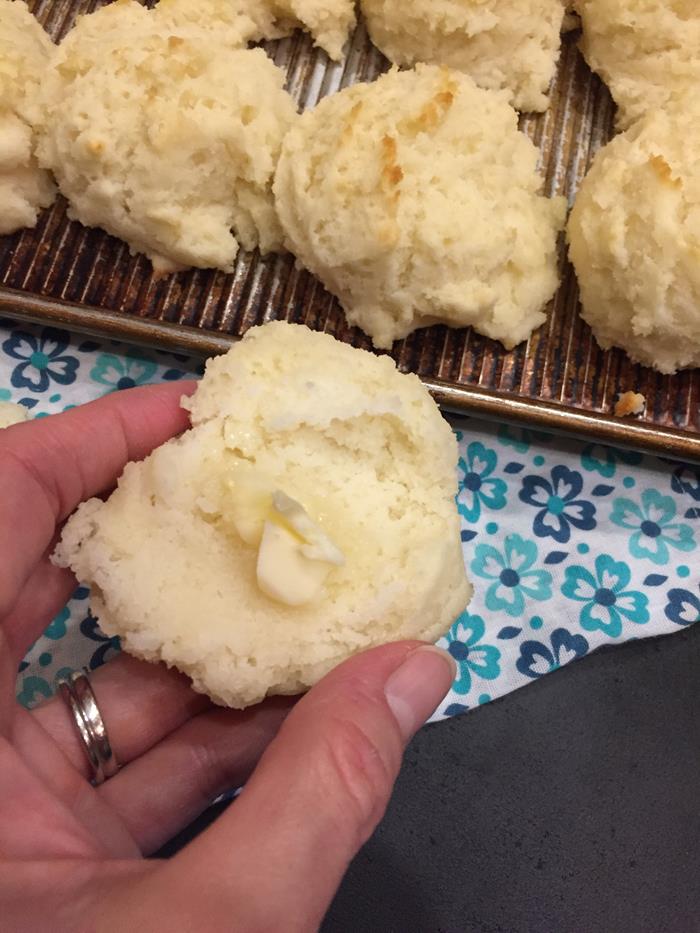 This week has me realizing just how fast time really does goes by. It was ten years ago this week that I started Lynn's Kitchen Adventures. I knew nothing about blogging and had no idea what I was doing. I started Lynn's Kitchen Adventures simply as a way to keep an online recipe journal.
I loved to cook and was always changing up recipes. I would constantly try new things and experiment. My husband would ask me to make something and I often could not remember the recipe he was talking about or what I did to make it.
Blogging was just starting to become popular back then and I decided it was a good way to keep track of the recipes I was making.
Those first few months no one really read my site. I was blogging more for me. Then I told a few family members and then a few friends. Then a few random people found me through google and other blogs linking to me and it just went from there.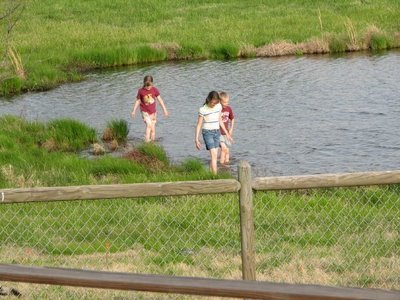 Those are my kids back in my early years of blogging. They do not like me to share many pictures online now that they are older, but my girls are in college and my son is now almost 6 feet 6 inches tall.
Oh how things have changed. Both in the blog world and at my house.
Social media has changed how blogging and the online world works. It is no longer quite the same as it used to be.
My kids have grown and life has changed for us. My daughter developed a life threatening peanut, tree nut, sesame allergy. My other daughter and I went gluten free due to health issues.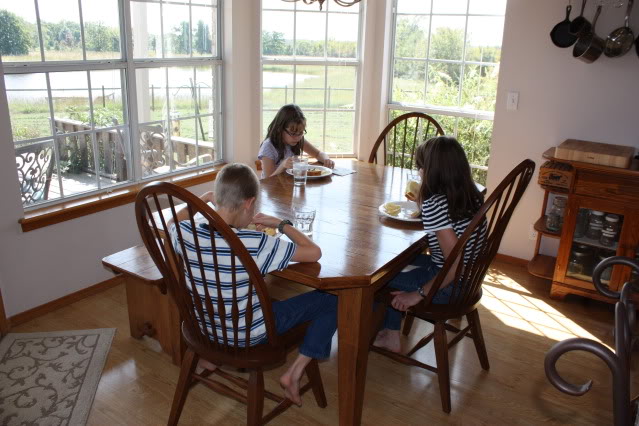 Sometimes I long for the old days. The days when my kids were younger and things were easier in both my blogging and cooking life, but life changes and we adapt.
When I named my site Lynn's Kitchen Adventures I had no idea how appropriate that name would be. With all the changes in our diet, life in my kitchen has been a huge adventure the last ten years.
In many ways though they are still the same. I still love to cook and bake. I still love to try new things and experiment with recipes. I am still a busy mom with three hungry kids. I still need quick and easy meals that my family will love. So much has changed and yet so much hasn't.
I know many of you have been around for most of those ten years. You have followed my adventures since the early years of my site.
You have stuck with me through the bad pictures, the poor writing, and the keeping it real updates. Thank you!
I really can't thank you enough. My readers and the friends I have made online over the last ten years have helped make this site what it is. It wouldn't be the same without you. Thank you!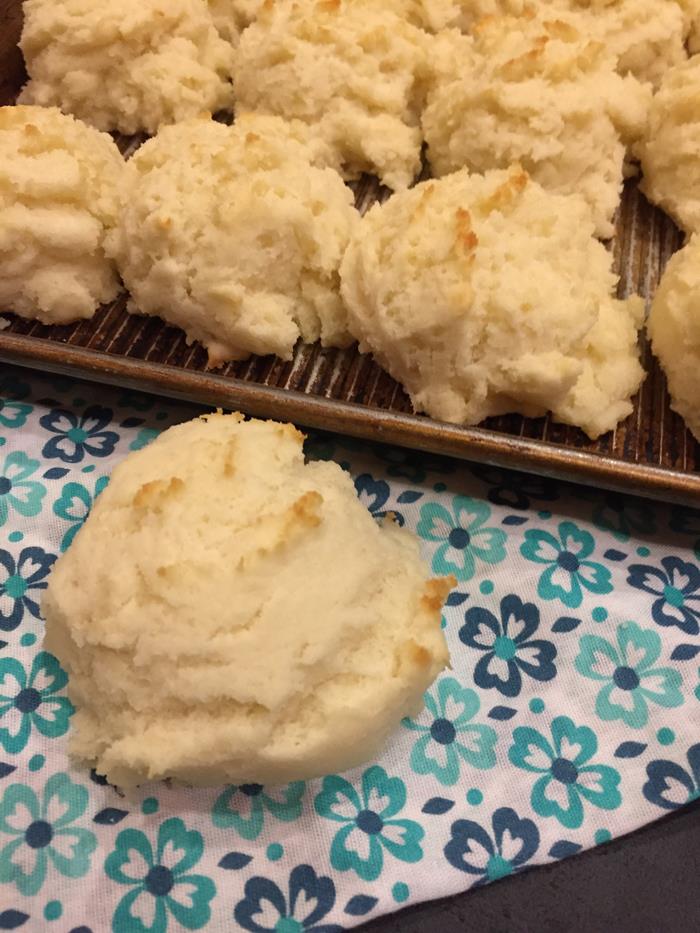 Because I have been thinking back over the last ten years I thought I would reshare one of the first recipes that I ever posted here on my site. It is for a simple biscuit recipe that my family loved.
When I shared the recipe back in my first week or two of blogging I didn't even title it. The post was titled breakfast and it had no pictures. Blogging was so much different back then.
That recipe was one I made all the time before we went gluten free. It is not a traditional biscuit recipe, it is more of a drop biscuit that contains yeast, baking powder, and baking soda. It is based on an old Martha Stewart biscuit recipe. I think it was a recipe that came from the early years of her magazine.
I now have a gluten free version of this recipe that I make all the time. The gluten free version is one of my favorite gluten free biscuits to make. It turns out perfect every time. If you are gluten free be sure to check out the gluten free drop biscuit version.
If you are not gluten free you need to make the version below. They are so good. This is a great recipe for those of you that may not have ever made biscuits or that don't enjoy making traditional cut out biscuits. Drop biscuits make biscuit making easy!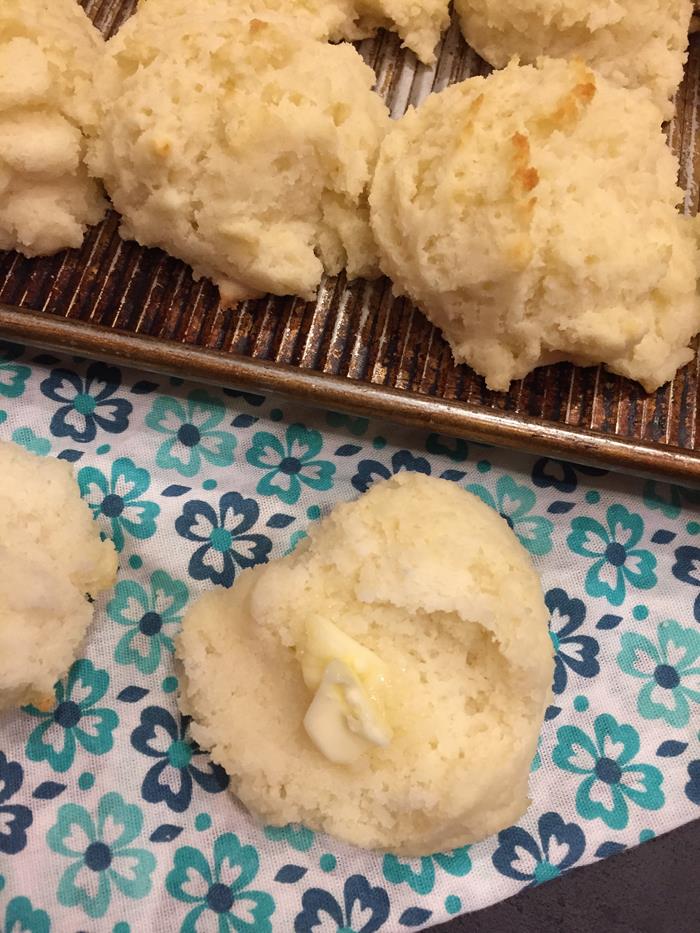 Easy Drop Biscuits
Homemade biscuits are easy with these simple drop biscuits.
Ingredients
1/4

cup

warm water

2

teaspoons

yeast

2 1/2

cups

flour

1

tablespoons

sugar

1

teaspoons

salt

1/2

tablespoon

baking powder

1/2

teaspoon

baking soda

1/2

cup

butter

melted and cooled

1

cup

buttermilk
Instructions
In a small bowl sprinkle yeast in warm water.

Let stand 5 minutes.

In a large bowl mix flour, sugar, salt, baking powder, and baking soda. Add remaining ingredients including yeast. Stir until completely mixed together. The dough will be a sticky dough, not like traditional biscuit dough.

Cover bowl with plastic wrap and let rise 1 to 1 1/2 hours or let rise in refrigerator overnight.

Preheat oven to 425 degrees.

Using a cookie scoop or large spoon form dough into 12 biscuits and drop on baking sheet or pan.

Bake until just golden brown about 14-15 minutes in my oven.