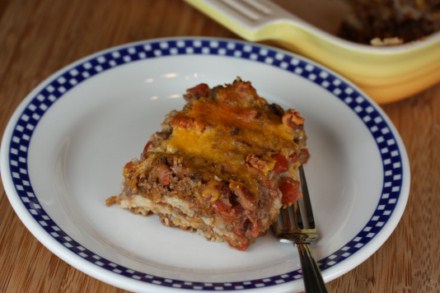 Today for ground beef Thursday I have a very good, yet very inexpensive and family friendly meal for you.
Over the years I have made quite a few layered tortilla casseroles or Mexican lasagna type meals, but this recipe today is one of my favorites.
I often do not follow an exact recipe when making a layered tortilla casserole, because I just use whatever Mexican type food I have leftover or in the pantry, but for this dish today I use an exact recipe.
And I use a recipe because I find that it turns out better when I do. My family enjoys this recipe more than any of the others that I just throw together with what I have on hand.
What I love about this recipe though is that it is still basic and simple to make. This is a recipe, but it is quick and easy and contains everyday ingredients.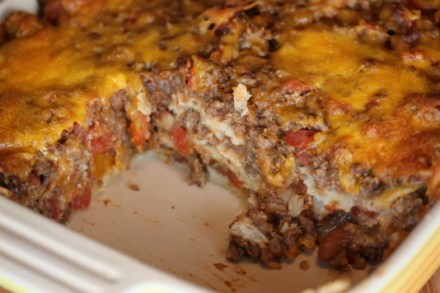 Mexican Tortilla Pie
2 lbs ground beef
1 can refried beans
2 cans (14 ounce) diced tomatoes
1 onion, chopped
1 teaspoon chili powder
1/2 teaspoon garlic powder
½ teaspoon salt
3 cups of shredded cheese, I like to use colby jack or a combo of cheddar and monterey jack cheese.
about 12 corn tortillas
In a skillet cook onion and ground beef until onion is tender and beef is browned. Drain off any fat.
Add tomatoes, beans, and spices and cook over low heat for 10 -15 minutes. This will help combine the flavors.
In a 9×13 pan or similar casserole dish place one layer of corn tortillas. You may need to cut/tear some of the tortillas to make them fit.
Cover with 1/3 of the meat sauce and 1/3 of the cheese.
Place a layer of tortillas on top of meat and cheese.
Cover with half of the remaining sauce and cheese. (This will be 1/3 of the total sauce and cheese.)
Cover with one more layer of tortillas and the remaining meat and cheese.
Bake at 350 for 30-35 minutes or until heated through.