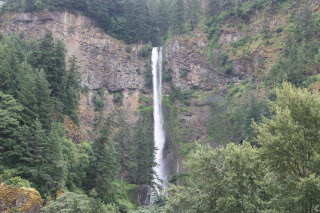 I have spent the last two weeks on vacation. Did you miss me? Well, most of you probably did not even know I was gone. I love the feature that lets you set posts ahead. I wrote and scheduled the last two weeks of posts quite a while ago. Then all I had to do was occasionally check in to moderate comments.
So, where did I go? I went to Oregon to visit family. It was a fun, but very memorable trip! We drove which is always an adventure. But considering the rest of the trip the drive was the easy part.
The first week we had a great time and packed a lot in. We saw my parents, two of my sisters, and a lot of other relatives. We went to Multnomah Falls, the beach, the Astoria Column, and the museum at the end of the Lewis and Clark Trail. We went to the Rose Gardens, the Japanese Gardens, and Powell's Book Store. We managed to fit in a trip Bob's Red Mill, where I bought a bunch of stuff to haul back to Oklahoma. My sister and I also took a cooking class together, which was lots of fun. During the first part of the trip my eleven year old daughter had an ear infection, but besides that we all had a good first week.
But then…….we got a NASTY stomach bug. And I mean nasty, it was a really bad stomach bug. We spent the last week of our vacation very sick. Thankfully, we were at my mom's house when we got sick, because if you can't be sick at your house, mom's is the next best place to be. But, it was still a pretty miserable last week. It went through all of us, even my dad got it. My mom avoided it. I am not sure how, but she did. My daughter had it the longest. She threw up for five days, that was how bad it was.
We ended up canceling all our plans that we had for the week. I had several friends that I had hoped to see and we had more places we wanted to visit. But that will have to wait until next time. Instead we laid around sick at my parents house. My kids and I watched way too many old movies and instead of taking a computer break like I had planned I found myself online quite a bit. We really did not feel like doing much else.
We were very thankful that we packed so much into our first week, it made everything we missed the second week a little easier. And we all said that this is one vacation we will never forget!
I am so thankful to be back at home. But now I am extremely tired and I have a mountain of laundry and mail facing me. I hope to be back to regular posting soon. I have a few posts ready for the next few days and hopefully by the end of the week I will be back to cooking again. I am really looking forward to getting to work in my own kitchen and cooking and eating some healthy food.