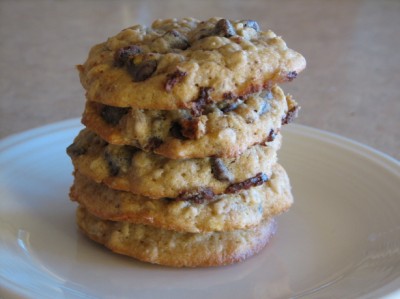 Do you like the new design? I have been wanting to update my site and organize my categories better for awhile. I finally had Joy at FiveJs do a whole redesign on it. I think she did a great job. We are still tweaking a few things, but the main part is done.
If you are reading this in reader or by email, you should click through and see what we have done. I now have category buttons for my main food categories in my sidebar. Click on them and it takes you to a whole list of that category. You will also see an entire list of my categories in a drop down menu in my sidebar, if you are looking for a category that does not have a button.
We have made a few other changes, so look around and see what you think. I hope it has made my site more user friendly and easier to navigate.
If you are needing a new WordPress Design Joy has been great to work with.
I can't post something without a picture. I had to put one in. The above picture is one of our favorite cookies, Banana Chocolate Chip.