This post is the fifth post in a series that SnoWhite and I are doing on living with Nut Allergies. This week we are talking about children and nut allergies. Please be sure to read SnoWhite's thought on this issue. She has been dealing with nut allergies most of her life and her information has been very helpful to me.
Today post is written by my daughter. When we decided to deal with the subject of kids and nut allergies, I thought it would be a great time to let her share her feelings and struggles of dealing with a nut and peanut allergy. She was diagnosed with her allergy less than one year ago. I hope you enjoy her thoughts and that it helps some of you understand the struggles and emotions that children with food allergies struggle with.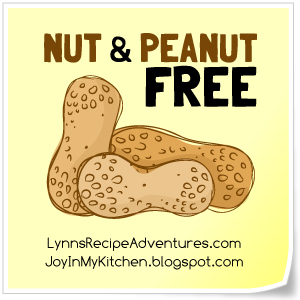 I am Lynn's twelve year old daughter, Brianna. I am a child with a peanut, tree nut, and sesame allergy. To learn more about me please visit my site.
It is hard to have a nut allergy. Even if you are not a child it is hard, but I think maybe it is harder on children for several reasons.
It is hard to see others eating nuts or things with nuts in it. I miss things likes Reese's Peanut Butter Cups, trail mix, and eating nuts by the handful.
Another thing that is hard on both children and adults is the fear of cross-contamination. I am always afraid of cross-contamination when some one around me eats nuts. I often ask people to wash their hands after eating nuts. People do not understand this, so I try to explain to them the risk it is to me.
I have to be careful when I go over to friends and family members houses. I have to read labels to see if there are nuts in products and food.
I think it is also hard to go over to friends or family members house to eat. It is hard to find a nut free meal if you do not pay attention to what has nuts in it and what does not. I think it makes people not want to have me over to their house. They think it is to difficult to deal with my allergies. I think this might be harder on children then adults because children like to go over to there friends house often.
Were you a child with a nut allergy? How did you feel and make it work?