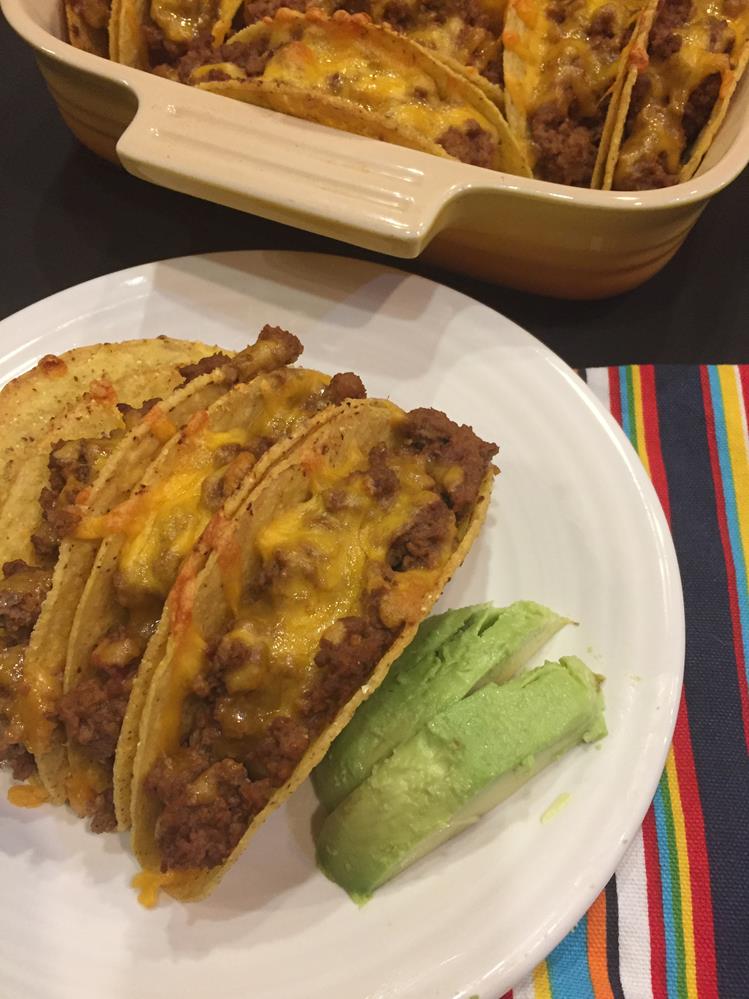 When I shared the recipe for oven tacos, way back in 2011, for my ground beef recipes series I had no idea how popular they would become.
The response to this recipe and that whole series has been more than I imagined. I had no idea you all loved tacos and ground beef so much.
All this time I thought ground beef was boring and too basic to share, but it turns out that you all are just like me. You are looking for quick and easy, family and budget friendly meals. And you all love ground beef recipes as much as I do.
Oven tacos are one of my favorite quick and easy go to meals. They are a great way to change up your basic taco night.
Mexican type foods are one of my family's favorite foods. They are usually quick and easy to make. Not only that many of them contain ground beef and beans, which are both inexpensive ingredients to serve.
A lot of times when people think of ground beef and beans, they think they are boring because they are often served in the same ways over and over again. The number one tip I have for making your family love basic meals is to change them up. Change the seasonings, change the cheeses, change how you make them. Serve the same foods in new ways.
That is exactly what I have done with these oven tacos. They are really just a basic taco served in a different and fun way.
My family loves these so much because they remind them of something we have had at a Mexican restaurant. Can I just say that I enjoy hearing that something I made tastes like something that was more expensive and came from a restaurant. I take comments like that as quite the compliment.
We eat a lot of tacos in our house and since we love these so much they are on the menu plan often. They were a nice change from regular tacos. And I think these would be perfect to serve at a kid's party or to a bunch of teens. Quick and easy, budget friendly food always work well for serving large groups.
I also love that these are an easy gluten free meal as long as the taco seasoning and shells are gluten free. Oven tacos are one of those regular meals that just happen to be gluten free.
This meal is also easy to turn into a freezer meal simply by freezing the filling. Cook up the ground beef bean mixture and freeze it. When your are ready to serve just defrost, fill the taco shells, sprinkle with cheese, and bake as directed.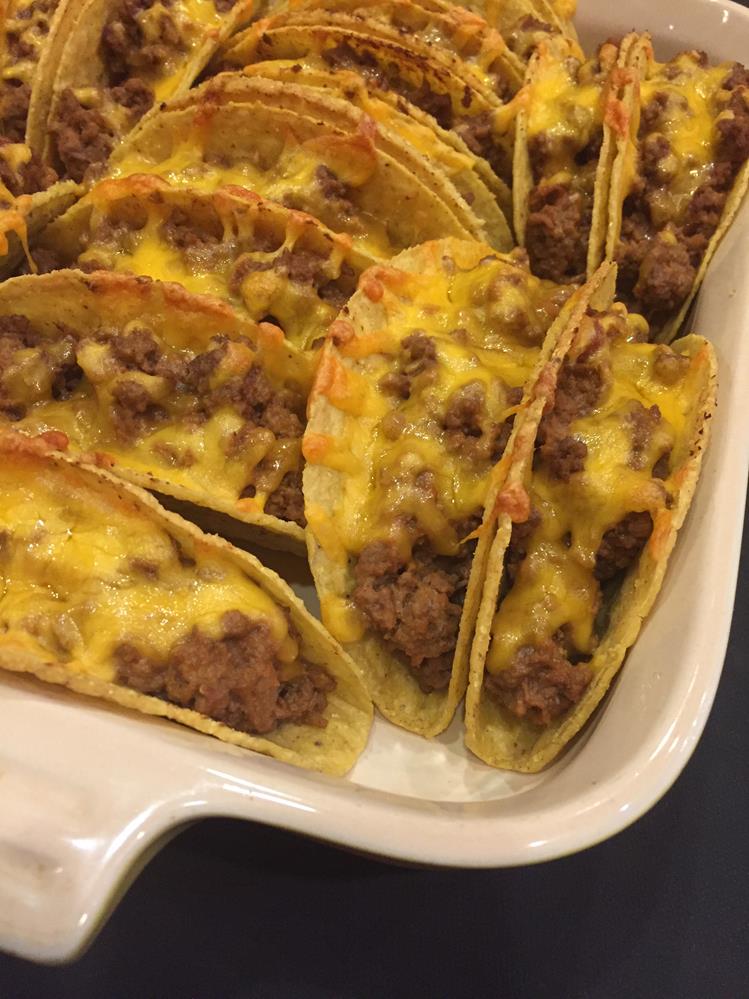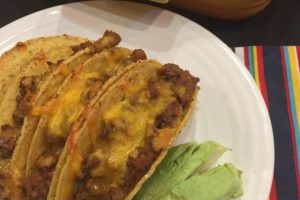 Oven Tacos
Ingredients
2

lbs

ground beef

1

can refried beans

8

ounce

tomato sauce

1

package taco seasoning or homemade taco seasoning

1 ½

cups

shredded cheese

18-20

hard taco shells

lettuce

salsa, sour cream, etc for serving.
Instructions
Brown ground beef. Drain off any fat and add refried beans, tomato sauce, and seasoning.

Spoon mixture into taco shells.

Place filled shells into a 9x13 pan, standing up. Sprinkle with cheese.

Bake at 400 for 10-12 minutes or until heated through.

Enjoy!
Recipe Notes
Notes: If you are gluten free be sure to read labels on the taco seasoning and taco shells to be sure they are gluten free. For those of you with a smaller family you may want to half this recipe. You could also easily stretch this for a larger group and get a few more tacos out of it by adding extra beans.