I like to keep breakfast pretty healthy. It is the first meal of the day and I like to serve something good for my family. But occasionally I will serve a special treat for breakfast, something that is not so healthy. Usually this happens on a weekend or holiday when I have more time and want something special.
One of the treats we like for breakfast is Baked French Toast. I have a freezer version, which I really like because I can make it ahead of time. Then it is ready in the freezer when I need it.
I also have a regular version of baked french toast that we like. I like baked french toast because I can do all the work the night before and all I have to do in the morning is put it in the oven.
I recently went to the peach orchard and bought peaches, so I had peaches that I needed to use up. I decided to change my baked french toast recipe around a little and make a peach version. I am glad I tried this because it was really good. We all enjoyed it and because it has peaches in it, it is healthy, right?
If you have never had baked french toast it is not like regular french toast. They best way I can think to describe it is that it is a cross between regular french toast and bread pudding.
This recipe calls for french bread, which does give you the best texture. But I usually just use what I have. I don't think homemade bread works well with this recipe. The texture just is not right with it. I do use regular store bought bread though. When I made the peach version I used 100% whole wheat sandwich bread and it was good. I placed them two slices deep and used 12 slices total for a 9×13 pan.

Baked Peach French Toast
4 peaches, peeled and sliced
1 cup brown sugar
½ cup butter, melted
2 tablespoons corn syrup
1 loaf french bread ( see not above)
5 eggs
1 ½ cups milk
1 teaspoon vanilla
Grease 9×13 pan and set aside. In a saucepan, over medium low heat mix and melt brown sugar, butter, and corn syrup. Pour the mixture in the greased pan. Place sliced peaches on top of sugar mixture. Place bread on top of peaches. Mix together eggs, milk, and vanilla and pour over the bread. Try to cover the bread. The bread will soak up the liquid.
Cover with foil and refrigerate overnight. In the morning bake covered at 350 degrees for 30 minutes, uncover and bake 5-10 more minutes.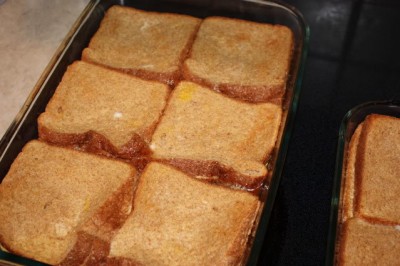 Serve and enjoy! When I serve this I flip the pieces over on the plate. That way the brown sugary peaches are on the top. This looks really nice on the plate.