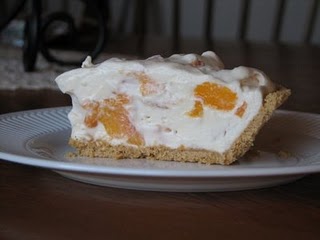 Last week I made another trip to the peach orchard. Yesterday, a few of the peaches that were left were not looking very good. They needed to be used up. I thought about making a cobbler but I wanted to make something different. I found a recipe that I had made several years ago but I changed a few things about it this time. I was really happy with the results. We liked the pie really well.
This recipe makes a great summertime dessert. You do need to make it ahead of time as it needs chill.
Creamy Peach Pie
1 8 ounce package cream cheese, softened
3/4 cups powdered sugar
1/4 teaspoon almond extract
1 cup whipping cream, whipped
7-8 peaches, peeled and chopped
1 graham cracker crust
Combine cream cheese, powdered sugar, and almond extract. Beat until smooth. Fold in whipped whipping cream. Gently mix in peaches. Pour into graham cracker crust. Chill for 4 hours before serving.