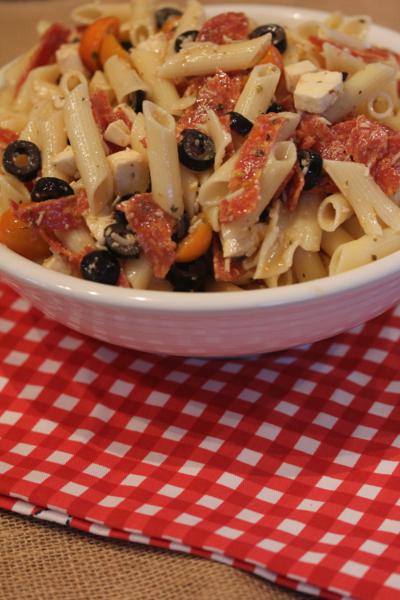 If you love the flavor of pizza, but don't want to heat up your oven, pizza pasta salad is a great option. It is the flavors of pizza mixed with pasta. Delicious!!
My kids love this and it makes a great lunch or quick and easy dinner. And you could really change this up adding whatever you like to it.
I think it would be good with some mushrooms and even peppers added, but my kids would disagree with me on that. They like it just the way it is.
Pizza Pasta Salad
1 pound penne or spiral noodles, cooked and drained

1 tomato diced ( I used cherry tomatoes because that is what I had from the garden)

8 ounces fresh mozzarella, cubed

5 ounces pepperoni slices

1/2 cup sliced olives

3/4 cup oil

1/2 cup Parmesan cheese

1/2 cup red wine vinegar 

2 teaspoons oregano

1 teaspoon garlic powder

1 teaspoon salt

1/4 teaspoon pepper or to taste
In a bowl combine cooked pasta, tomatoes, mozzarella cheese, and pepperoni.

In a small bowl combine oil, parmesan cheese, red wine vinegar, oregano, garlic powder, salt, and pepper. Stir to combine well.

Pour over pasta and toss to coat.

Serve immediately or refrigerate until serving. This is best served the day it is made.