This is one of those recipes that is not really a recipe and I almost did not post it, but it is a dish my family really enjoys.
I enjoy it not only because it tastes really good, but because it is so easy. It contains only 2 ingredients. You can not get much more simple than that.
And if you serve this with a vegetable and maybe even some bread or rolls, you have a simple, yet delicious meal.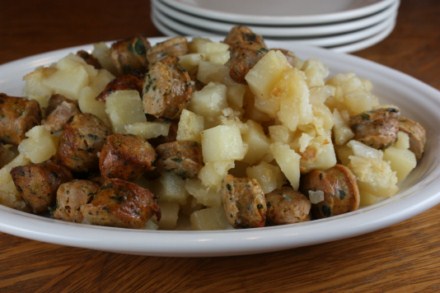 Potatoes and Sausage
1 ½ pounds of sausage ( I used a gluten free chicken sausage, but really any uncooked type sausage link will work here) sliced into chunks.
2-3 lbs of potatoes, peeled and cut into small chunks
salt and pepper to taste, optional
Toss to potatoes and sausage together.
Spread potatoes and sausage on a cookie sheet or a 9×13 pan.
Bake at 375 for 45-55 minutes or until potatoes are tender and sausage is done.
Salt and pepper if needed.
Serve and enjoy!