Some of you may be thinking, pumpkin cornbread?! Really, you made pumpkin cornbread?! But stay with me on this one. It is so good.
Cornbread is perfect next to a bowl of chili or soup. I mean who doesn't love a bowl of steaming hot chili with a side of cornbread. Delicious!
Cornbread though is one of those foods that is so regional. The northern part of the US and the southern part of the US are a long way apart when it comes to cornbread.
I grew up in Oregon, not really the north, more of the northwest, but we still ate our cornbread light and fluffy. Moist and sweet.
Then I moved to Oklahoma to discover dense and a bit drier, okay a lot drier, cornbread. And a whole lot less sweet.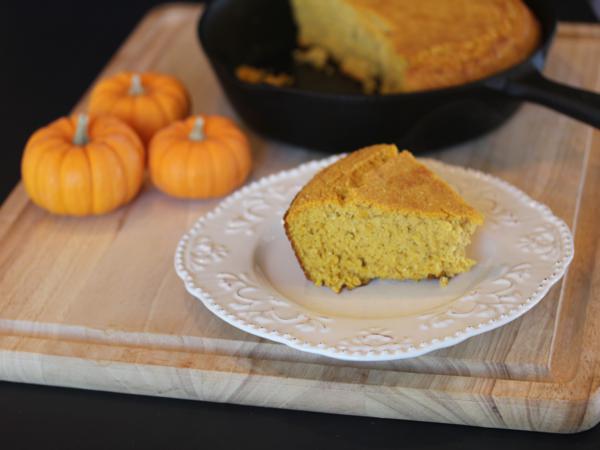 My family prefers the southern style cornbread. I still prefer the more northern style. This recipe today for pumpkin cornbread is a bit of both worlds.
It is more southern in that is has no flour in it, just cornmeal. It is more northern in that I added brown sugar and molasses to it to keep it sweet. And of course the pumpkin. The pumpkin in this keeps it moist and delicious.
I have had many dry southern cornbreads, but the pumpkin in this keeps that from happening and adds an extra depth of flavor at the same time.
And if you are still thinking, really pumpkin in your cornbread, it took my husband several bites before he could even taste the pumpkin. The kids told him to guess the secret ingredient and it took him awhile, so the pumpkin is not overly strong.
Really you should give this a try.
And a few years ago I shared my tip for the best cornbread and in my opinion it is all about the pan. I would love to hear if you all agree with me on that.
I would also love to hear your thoughts on cornbread. Are you more northern or southern in how you like cornbread?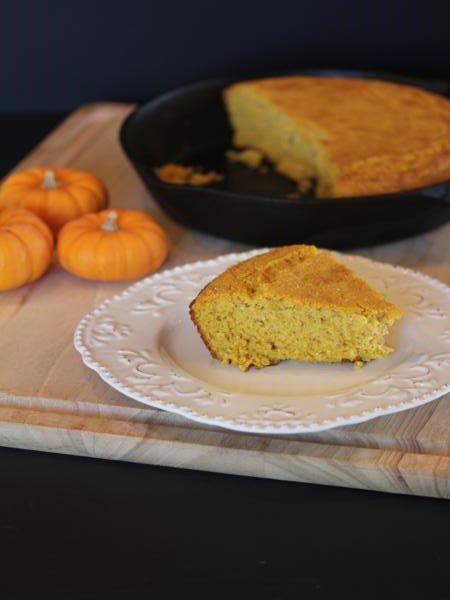 Yield: 8 servings
Pumpkin Cornbread
Pumpkin Cornbread is a perfect cornbread for fall.
Ingredients
2 1/4 cups cornmeal
1 teaspoon baking powder
1 teaspoon baking soda
1/2 teaspoon salt
1 3/4 cup buttermilk
1/4 cup oil
2 eggs
1 tablespoon molasses
1/4 cup brown sugar
1 cup canned pumpkin
Instructions
Preheat oven to 425 degrees.
In a bowl combine cornmeal, baking powder, baking soda, and salt. Whisk in buttermilk, oil, eggs, molasses, brown sugar, and pumpkin.
Pour into cast iron pan or 8x8 square pan.
Bake for 18-20 minutes. Cool in pan for 5 minutes and serve.
Nutrition Information:
Yield:
8
Serving Size:
1
Amount Per Serving:
Calories:

265
Total Fat:

10g
Saturated Fat:

1g
Trans Fat:

0g
Unsaturated Fat:

8g
Cholesterol:

49mg
Sodium:

486mg
Carbohydrates:

39g
Fiber:

3g
Sugar:

11g
Protein:

6g
Nutritional values are approximate and aren't always accurate.