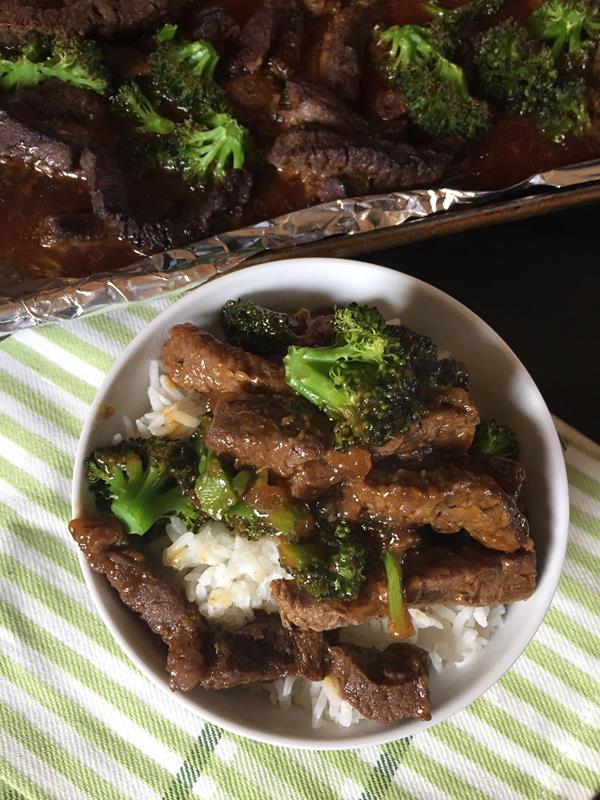 Broccoli beef is one of my favorite things to get when it comes to Chinese food. I love it.
Because of my daughter's tree nut, peanut, sesame allergy, eating out is difficult. Eating at a Chinese food, or any type of restaurant that serves Chinese or Asian type food, is almost impossible. There are just too many risks because of the amount of nuts and sesame they use.
When it comes to Chinese type food we have learned to make our own at home.
Sometimes I take a lot of time to recreate a favorite at home, but most of the time time I like to keep it simple with meals like this sheet pan broccoli beef. This recipe makes broccoli beef easy to make.
I have been known to just eat it on it's own. I like it that way, but the rest of my family likes it over rice. The leftovers are great for lunch the next day.
In the spirit of keeping it real, I will fully admit that not everyone in my family loves broccoli. One or two of my children don't like it at all, but they eat it when I serve it. Or they pick out the broccoli and have meat and rice. Just keeping it real because I doubt my kids are not the only kids that don't love broccoli. 🙂
Need more sheet pan dinner ideas?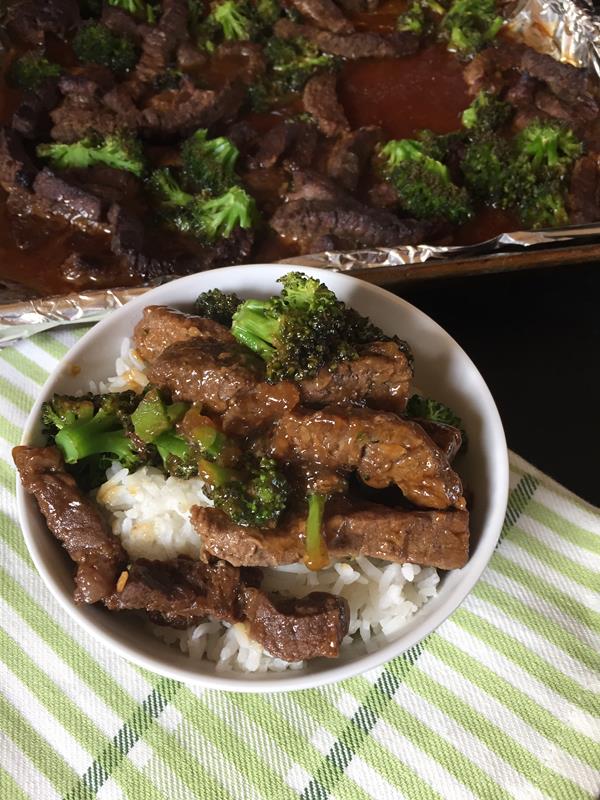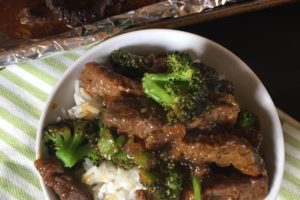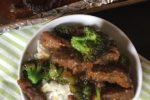 Sheet Pan Broccoli Beef
A simple make at home version of a favorite recipe.
Ingredients
1

cup

soy sauce ( I use gluten free soy sauce)

3

cloves

garlic, minced

6

tablespoons

honey

1/4

cup

brown sugar

1/4

cup

oil

1/4

cup

rice vinegar

2

teaspoons

ground ginger

2

tablespoons

cornstarch

2

pounds

flank steak, sirloin tip steak,or other desired steak, sliced into bite sized pieces or desired size cutting against the grain

4-5

cups

fresh broccoli florets
Instructions
Preheat oven to 425 degrees.

Line two sheet pans with foil. You don't have to line pans, but it makes for easy clean up. Set aside.

In a bowl combine soy sauce, garlic, honey, brown sugar, oil, rice vinegar, ginger, and cornstarch. Add meat and stir to coat well. Let marinate while oven preheats. or for about 10 minutes.




Spread meat and sauce on sheet pans, dividing evenly between pans. Bake for 15 minutes.

Remove pans from oven and carefully stir in broccoli. Cook for 12-15 minutes more or until broccoli is tender and meat is cooked through. Serve as is or over rice.