I really like potato salad. I think I always have. My husband on the other hand enjoys it occasionally, but it has never been his favorite. After we had been married for a while, I figured out why he did not like it all that much. He hates mayonnaise or Miracle Whip. It is one of the things he really dislikes. I dislike Miracle Whip, but mayonnaise works great for many things in my opinion. I eat it on my sandwiches, in potato salad, coleslaw, and even on my hot dogs. So, I have never figured out why my husband dislikes it so much, when it is so good.
He said the main reason is that it is just like eating fat and oil. He thinks that is what it tastes like. Well, I will agree that it is not the healthiest food to eat, but it is really good.
Even though I think mayonnaise works best in many things, I have had to adapt some of my recipe to his taste. And that would be with less mayonnaise in them. Potato salad is one of those that I have adjusted to the way he likes. And actually I have found that I like it this way better also. It is a nice subtle mayonnaise taste, but not overwhelming. The sour cream in it gives it a nice creamy texture.
My other trick on potato salad is to drizzle the warm potatoes with pickle juice or vinegar. I know this sounds strange, but it works great. I read this tip in a Cook's Illustrated magazine several years ago and tried it. If you do this the flavor of the vinegar/pickle juice absorbs is slightly more pronounced than it is if you stir it into the dressing part.
I then refrigerate the potatoes. If the potatoes are cold when you stir the dressing on the do not break apart as much. It gives you a better texture for your potato salad.
This recipe is a basic recipe and several ingredients have options. We like Dijon mustard, but you may prefer regular yellow mustard. So, use what you like.
Yield: 8 servings
Sour Cream Potato Salad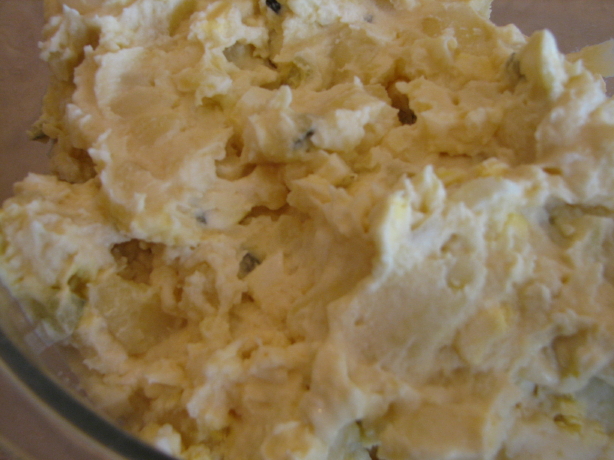 A delicious twist on a classic potato salad.
Ingredients
3 lbs of potatoes, peeled and cut into ¾ inch or so chunks. I like using Yukon gold potatoes because I think they hold up better in a potato salad.
1/3 cup of pickle juice or red wine vinegar- really either works, I use whatever I am in the mood for. They both give it a slight tang that we enjoy
Salt and pepper
½ cup mayonnaise
¼ cup sour cream
1/3 cup minced pickles, we like dill, but sweet would work also
1 tablespoon of mustard , we like Dijon, but yellow works too
4 hard boiled eggs, chopped coarsely
Instructions
Cook the potatoes in boiling water until done. Usually about 10-12 minutes.
Drain.
Carefully toss the warm potatoes with vinegar or pickle juice, whichever one you choose, and a little salt and pepper. I probably use about 1 ½ teaspoon salt, but that is a guess.
Spread on a cookie sheet and refrigerate for about 1 hour.
Meanwhile mix the mayonnaise, sour cream, mustard, and pickles together.
Place in a large bowl and add cold potatoes and eggs.
Stir carefully.
Refrigerate for at least an hour before serving.
Enjoy!
Nutrition Information:
Yield:
8
Serving Size:
1
Amount Per Serving:
Calories:

376
Total Fat:

17g
Saturated Fat:

4g
Trans Fat:

0g
Unsaturated Fat:

12g
Cholesterol:

125mg
Sodium:

719mg
Carbohydrates:

46g
Fiber:

5g
Sugar:

5g
Protein:

9g
Nutritional values are approximate and aren't always accurate.