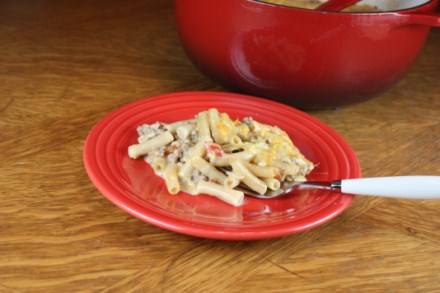 We love pasta in our house. It is usually an inexpensive, quick, and easy meal to make that everyone enjoys.
This spicy pasta and sausage is a dish that I came up with recently when I wanted to make something that was a little different than the normal pasta I usually make.
We all loved this. The rotel tomatoes help give it some spice, while the cream and cheese give it a nice texture. And I really loved the fact that it was a one pot meal. You will be seeing this on the menu plan again soon.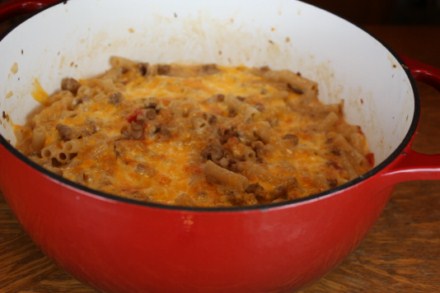 Spicy Pasta and Sausage Bake
1 lb sausage
1 onion, chopped finely
4 cloves garlic, minced
2 cans (14 ounce) chicken broth
1 (10 ounce) can rotel tomatoes, or tomatoes with green chilies
½ cup cream
1 lb penne pasta ( I used gluten free)
2 cups shredded, colby jack cheese ( you could use just about any cheese for this)
In a large pan cook sausage and onion until the sausage is browned and the onion is tender. Add garlic and cook for 1 minute.
Stir in broth, tomatoes, cream, and pasta. Bring to a boil.
Reduce heat to a simmer and cover pan. Simmer covered for about 15 minutes or until pasta is tender.
Stir in cheese until melted, and serve.