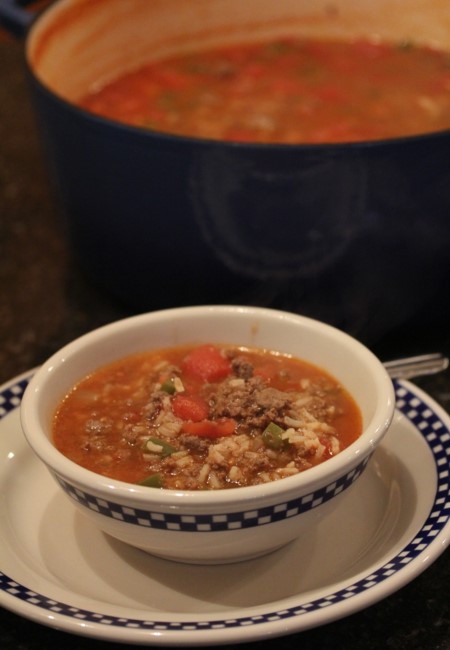 Stuffed Green Pepper Soup is a quick and delicious meal perfect for fall and winter.
Soup for dinner is usually a weekly occurrence at our house during the fall and winter. It is a great meal because it is usually a meal all by itself. Yes, you can add bread or salad, but you don't have to.
I also like to make soup because it is usually a quick and easy meal or a crock pot friendly meal. Both of which I love for busy days.
Our peppers plants in the garden were still going strong at the end of October. I love peppers and have been freezing them like crazy over the last few months. A freezer full of peppers is definitely a good thing!
Several in my family love stuffed peppers, but I don't make them very often, because it takes quite a few peppers to serve my whole family. Stuffed green pepper soup though is a great way to get the flavors of stuffed peppers while only using a couple of peppers. It is also a lot less work than stuffed peppers.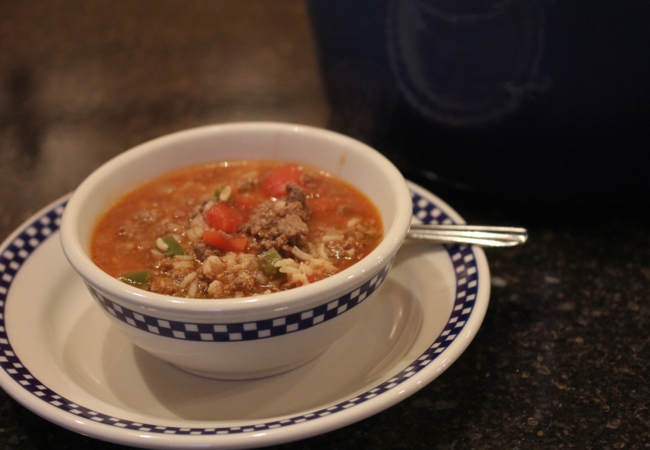 I have seen quite a few recipes for stuffed pepper soup, but mine is a little different. Most recipes that I have seen call for cooked rice as an ingredient. I love to find different ways to use cooked rice, because it works great for leftover rice.
However for stuffed pepper soup I prefer to cook the rice in the soup rather than added it already cooked. This allows the rice to pick up the flavor of the soup while it is cooking and gives you a much more flavorful result.
If you have some leftover rice, or don't want to cook the rice in the soup, feel free to decrease the liquid slightly and add cooked rice instead of uncooked rice. But I think you will like it if you give cooking the rice in the soup a try.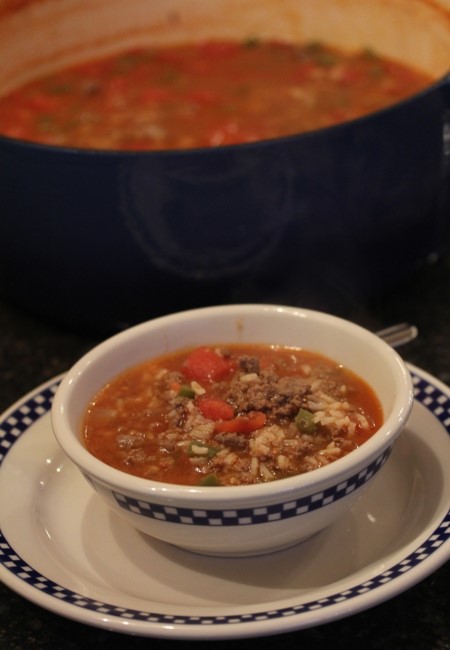 Yield: 8 servings
Stuffed Green Pepper Soup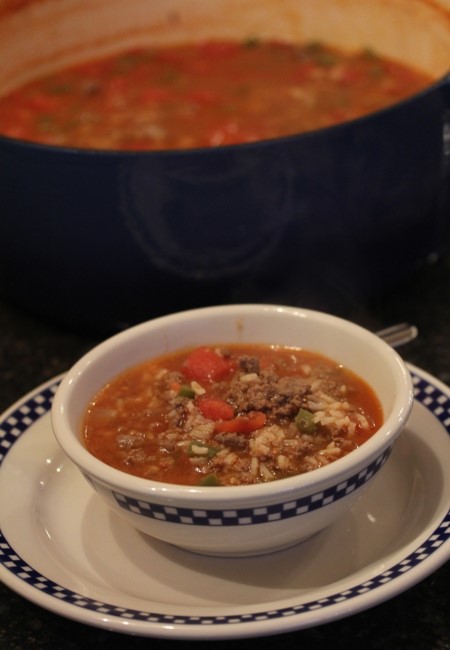 All the flavors of stuffed pepper in one delicious soup.
Ingredients
1 pound ground beef, ground chicken, or ground turkey
1 onion, finely chopped
2 green peppers, chopped
4 cups beef broth ( or 4 cups water and beef bouillon)
1- 28 ounce can diced tomatoes
1 - 8 ounce can tomato sauce
1/2 cup rice, uncooked
1/2 teaspoon chili powder
1/2 teaspoon paprika
1/2 teaspoon salt or to taste
Instructions
In a large pot cook meat, onions, and peppers until meat is done and onions and peppers are tender. Drain off any fat.
Add remaining ingredients and stir well.
Bring to a boil. Reduce heat to low and cook for 25-30 minutes or until rice is tender. Stir occasionally while cooking.
This soup is great leftover, but it does thicken up as the rice absorbs the liquid.
If you don't have fresh green peppers you can add a couple of cups of frozen green peppers or a green pepper onion mix.
Nutrition Information:
Yield:
8
Serving Size:
1
Amount Per Serving:
Calories:

260
Total Fat:

14g
Saturated Fat:

5g
Trans Fat:

0g
Unsaturated Fat:

7g
Cholesterol:

73mg
Sodium:

912mg
Carbohydrates:

11g
Fiber:

3g
Sugar:

5g
Protein:

24g